mTouch Labs is an Android app development company in India with a team working to provide the best solutions. Our team offers creative and innovative mobile app development services at all times. There are no limitations to the solutions we can provide to our clients, whether they want many technologies or mobile apps. Our best Android app developers spare no effort to provide you with a high-quality user experience.
We first meet with our stakeholders, give our best to our client's business objectives, and then present the best solutions for their enterprise. mTouch Labs is the best mobile app and Android app development company in India that delight your users and grow your business. We work with any organization that creates products and helps them market and grow their target audience.
The Popular Advantages of Android Apps for Businesses
Extensive Graphical Support Options

Any mobile app development company can tell you that the graphical needs of one result can vary wildly from the next.

A Low Budget Investment Expects High Return on Investment

Another one of the major benefits that come with hiring the best Android app development company comes way of the relatively low initial investment.

Modern Integration for the Modern Company

Another major advantage of Android app development services over all the platforms you'll get to enjoy the top most result compared to other apps.

The Power of Open Source

For many organizations, the most important advantage that Android application brings to the table comes by way of the open-source high-quality platform.

The Beauty of Multiple Sales Channels

Nowadays businesses like the fact that top Android app development services can be developed in several types of ways depending on their requirement and needs.
Why Should You Hire Our Top Android Application Development Services?
Our Top Android application development services are skilled and advanced, our Android app development process is perfectly modern, and customer satisfaction is placed as the priority.
Our mobile application development company provides you with different ways to fulfill your requirements. You can hire us to work full-time on your project or hire a dedicated Android application developer to work remotely on your project.
Expert developers
Multiple hiring models
Reasonable rates
Industry-specific experience
Transparent development process
24*7 availability
Timely project delivery
Android App Developers At Your Service
Our Android App Developers provide end-to-end development services. We have experienced and specialized Android app developers with knowledge of the latest programming languages and technologies, frameworks. Our aim is to make your business top future-ready by delivering the best user-centric best digital experiences.
Google Play Store is one of the biggest app stores in the world and we create top Android apps that engage users and stand out among your competitors using the latest programming languages and frameworks. Top-quality Android app development services and giving the best solutions are provided by mTouch Labs one of the top Android application development companies.
Our Android App Development Process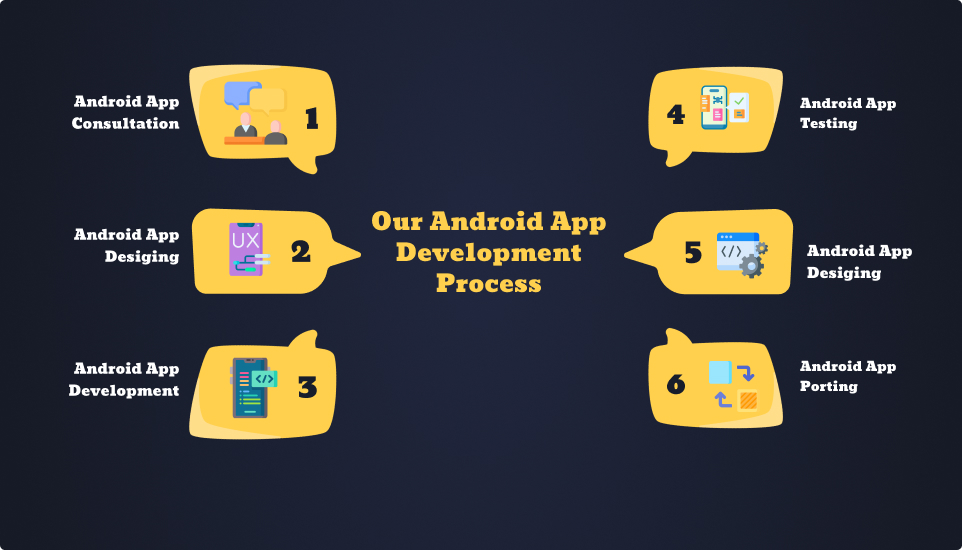 Android App Consultation

We provide the best services to our clients with the app development process, the best language to select, and building high-quality apps.

Android App Designing

App Designing is the first method and our experienced UI/UX designers create top-quality designs that give the main attention to our app.

Android App Development

Hire a top Android application development company and get a genuine app getting you the amount of return on your investment.

Android App Testing

We test the app properly to make it the best. Our QA team conducts various types of testing before the actual launch.

Android App Maintenance

Our experienced Android app developers fix all the bugs, add the latest features, and keep the app up and running well for the top user experience.

Android App Porting

We can build your existing Android application into an iOS app or your existing iOS application into an Android app, whatever the requirements of your business need.
Mobile App Development Company in India
mTouch Labs is a Mobile App Development Company in India With the best Process For Delivering the best Mobile Apps solutions Supporting All Mobile Application Versions. From idea To building, and deploying We Ensure the best end-to-end user Experience For Our Clients. So Get In Touch Today For Your top mobile application development company.
mTouch Labs is one of the top mobile app development companies in Hyderabad. We have delivered quality mobile apps to entrepreneurs, startups, and businesses. We have a strong team of tech professionals working every day just to serve you the best. With many years of experience in mobile app development, our team provides the best mobile app solutions and services.
Why Choose Us?
mTouch Labs is committed to providing quality mobile app solutions. We follow the best industry-recommended practices and quality standards to deliver scalability, security, and high-performing Mobile app development. We are registered as the best mobile app development company in Hyderabad. These platforms validate our mobile application development especially showcase our positive client reviews, further establishing the industry. We strongly believe in transparency and provide a clear project development process and planning including cost estimation and the timeline for your Android app development project.
Our team understands the importance of on-time delivery. With highly talented project management processes and methodologies, and streamlined app development processes, we ensure to make it quick without compromising on quality to deliver the best mobile app products and solutions. Our Android app developer team is highly specialized and stays updated with the latest trends and best technologies.