At present, there are almost 5 billion active mobile social users. This is a market you can't ignore. If you still don't have a mobile app for your business, then it's time to get one mobile application. Android app development and iOS app development are the two main mobile operating systems nowadays.
As the usage of smartphones increases everywhere, the world of mobile app development is developing along with it due to growing business needs and user preferences. But mobile app development proves to be a complex endeavor, and from the very beginning of the process companies and developers are faced with a challenging question
IOS App Development Or Android App Development?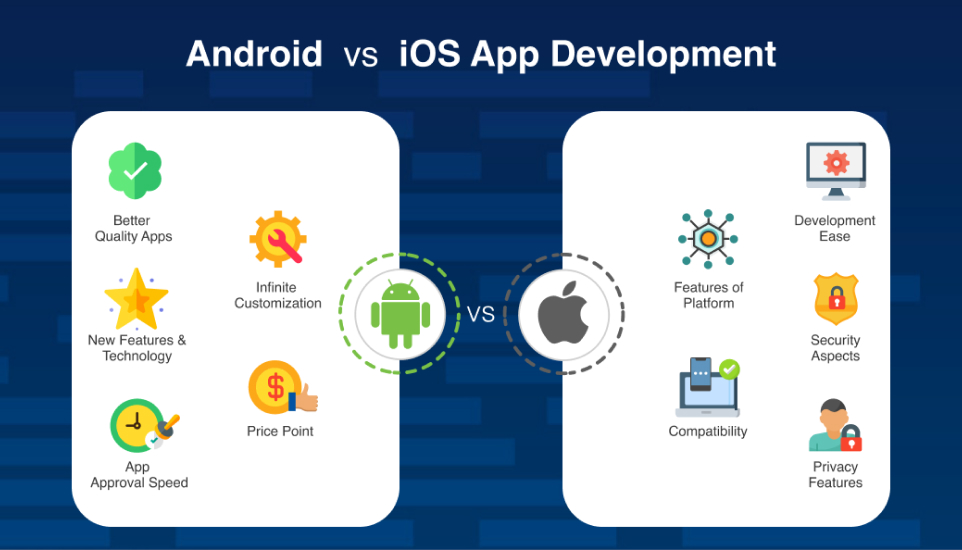 Android App Development
Our mobile android app development company in the Hyderabad team consists of top-class designers, app architects, mobile strategists, and product managers. Before Crafting the mobile apps our expertise team in user interface design digs into research to see how user-friendly the app is. Our best android app development company developers leverage the full functionality of the android operating system to create a perfect app to enhance the user experience. We believe that the best mobile application for you will be simple, elegant, classy, beautiful, and functional by nature. As a top android app development company in Hyderabad, mTouch Labs, Hyderabad is backed by expert android app developers.
iOS App Development
We at mTouch Labs do take pride in being recognized as one of the leading iOS app development companies in Hyderabad. mTouch Labs team consists of designers and developers who are well versed with the latest android and iOS versions and technologies and experts in mobile UI designing and development of the application. mTouch Labs is a reputed iOS app development company in Hyderabad that has proven expertise in developing and designing quality apps that appeal to a worldwide audience outsourcing various iOS app requirements.