mTouch Labs has been providing award-winning Mobile App Development services to its clients for which the company earned a top position among the best mobile application development companies. Our top Mobile App Development Company in Hyderabad builds tailored and highly operational iOS app development & android app development to meet all your business needs. From discovering the proper design and launching your mobile application in the market our enterprise uses the latest and trending technologies to make a mobile app user experiences smooth across platforms.
About MTouch Labs - Best Mobile App Development Company
Founded in 2011, mTouch Labs is headquartered in Hyderabad, India. Our mobile app development company has developed world-class mobile applications for 100+ clients across the globe. Our Mobile Application Development Company team consists of young & talented mobile app developers including UX/UI designers.
We offer services like Android App Development, iOS app development, custom software development, and eCommerce development. The firm has gained tremendous experience in serving all sizes of companies belonging to varied industries like IT, Education, eCommerce, Healthcare, Fitness, Banking, Food sector, Infrastructure, and the Transportation sector.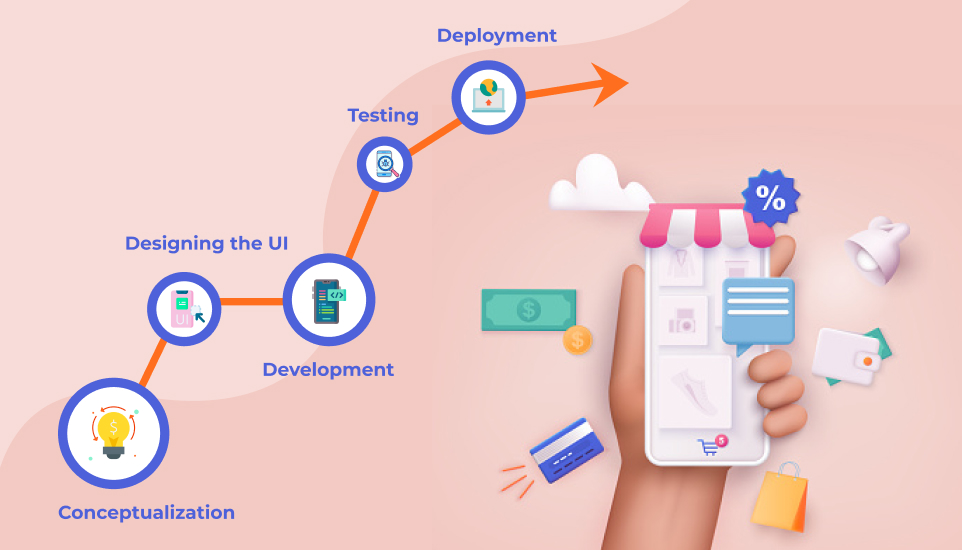 Best Mobile App Development Company
What Makes Us Best Mobile App Development Company In India
When compared to other mobile application development companies – what makes us unique and stand out from the crowd? We take every project as an opportunity to deliver outstanding and next-gen mobile applications using state-of-the-art technologies. At mTouch Labs, perfection is not just another quality but also a way of life that we have become habituated to. Discuss with our mobile app developers and make your digital dreams come true
Steps followed by us for a successful in Mobile Application Development
1. Conceptualization
Conceptualization is the foundation of successful mobile application development. This stage addresses all the aspects of the mobile app, from target market research to what aspects will make your app unique.
2. Designing the UI
As a representation of the structure of the mobile app, we provide a mobile app design on paper that is beautiful to visualize. This step helps one assess the usability of the mobile application and determine navigation from one section to the other.
3. Development
With our immense experience in app development, our mobile app developers follow the agile development process that helps to build your dream product at the lowest cost and quick market release
4. Testing
The final version of the mobile app is completely ready, and it's time to test your app to spot bugs and effect improvements. Beta testing and User Acceptance Testing (UAT) are carried out here.
5. Deployment
Once the app is ready to release, it's launched in respective app stores. Even after launch, any mobile app needs proper attention to ensure scalable, smooth functioning, and build enhancements.
Conclusion
By continuously delivering innovative Android app development, iOS App Development, and various on-demand app development we satisfy clients with scalable app designs. Our clients have regarded mTouch Labs as one of the Top Mobile App Development Companies in Hyderabad