In this smartphone era, people around the world have become reliant on mobile apps for the majority of tasks. These mobile apps are the driving tool behind various successful businesses. This mobile app development has helped various businesses to take them to a new level. When it comes to accessing online content and performing daily activities like ordering food, booking a cab, ticket booking, performing banking transactions, and doing shopping, mobile application development is becoming the all-time favorite solution. With the right technical support, your website can also transform into an engaging mobile application that serves both iOS app development and Android app development .
Businesses and startups, which have only a website, need to recognize that having a website is no longer enough. To remain competitive and stay ahead of competitors, it is necessary to take one step further and think about mobile app development for your business. While some businesses operate both websites and mobile applications, other companies might choose one of the two. The choice between the mobile app development and using the websites depends on their complexity, compatibility, reliability, usability, cost, required features, functionality and the audience they serve.
Website To Mobile Application Development
Why would you convert a website into a mobile app? What are the key challenges? How can you go from website to mobile application development in the quickest, most affordable way possible? However, a lot of businesses find it challenging to know the dynamics of how to transform a website into an app. We're going to answer these questions and more in this blog. Here in this blog, we lay down some of the important aspects when looking to convert a website to a mobile app.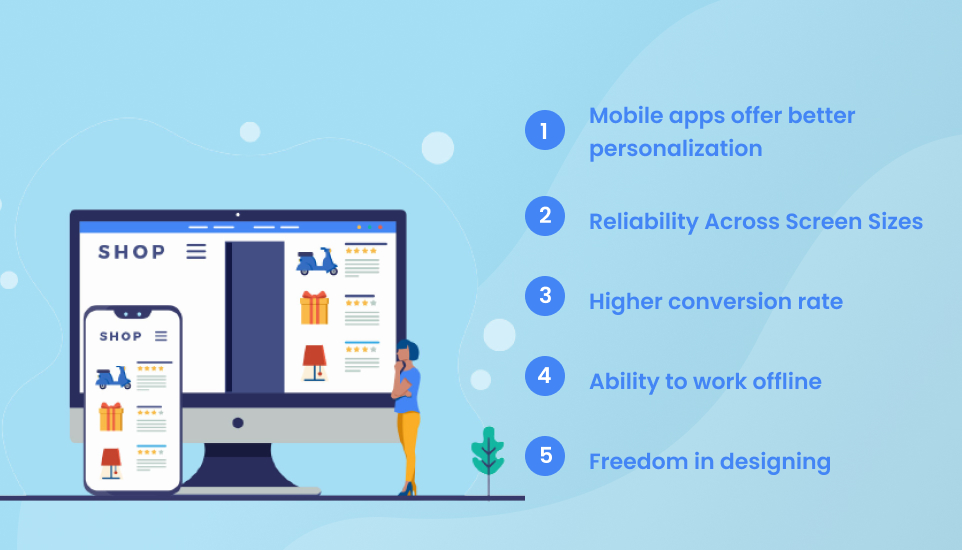 Best Mobile Application Development Company
1. Mobile apps offer better personalization
With mobile application development, it's easy to manage users with a personalized user experience. Using A/B testing for a mobile app, you can also test out various actions for your customers. This Android app development and iOS app development mobiles set up the user's preferences and choices at the start, based on which the users will be shown relevant and customized content. Apps can also track user behavior and user engagement to offer various recommendations and updates to the users.
2. Reliability Across Screen Sizes
The main reason to convert a website to an app is that of its dependability on different screen sizes. The mobile apps can be operated easily from different screen size smartphones whereas the website doesn't optimize simply in different smartphones due to various screen sizes. In fact, users find it difficult to use websites from smartphones as they can't find an appropriate feature or service easily. Gradually, you can offer added features, updates, and functionalities in the updated versions of your mobile app. So, this is the main purpose to make your own app from the website.
3. Higher conversion rate
Statistically, 77% of mobile users across the globe use the Internet with the intent to purchase. Having a mobile application gives you an important advantage because of its convenience. A mobile app simplifies the process. If you were in the pizza business and had a mobile app for delivery service, your customers would not need to go to your website to place an order. The result is higher conversion rates for mobile apps.
4. Ability to work offline
It is probably the common fundamental difference between a mobile website and a mobile app. Like websites, mobile apps too need active internet connectivity to accomplish most tasks, but here's the main difference: the mobile apps can still offer primary content, features, and functionality to customers in offline mode.
5. Freedom in Designing
With all the technological developments in web designing and development, websites still have to depend on browsers to perform even the most simple and fundamental functions. Websites should have to depend on various browser features like the refresh button, back button, and address bar to work. Whereas Android app development and iOS app development mobiles don't need any of these restrictions. A mobile app gets designed and developed with several complex functions based on advanced gestures like 'swipe,' 'tap,'' drag,' 'pinch,' 'hold,' 'close' and many more.