Can you guess how many people are utilizing online shopping these days? You will be surprised after hearing about the number of online buyers in the present day. Over 2 billion users are buying products from online shops globally. And that is because of eCommerce App Development.
So, those who run online shopping businesses show great interest in eCommerce App Development. In other words, eCommerce application development has transformed the current scenario of the marketplace. eCommerce application development statistics have indicated to us how the world's online shopping experience is changing. People all around the world now spend most of their time using eCommerce mobile apps on their smartphones. Over 70%people use e-commerce apps like Amazon, eBay, Flipkart, and more.
What is an eCommerce App Development?
Most people consider e-Сommerce app development as a business for the consumer (B2C), but there are various types of e-Commerce including online banking, ticketing and booking, and business-to-business (B2B) transactions. Recently, the growth of eCommerce application development has extended to sales using mobile devices, which is commonly known as "mobile commerce" and is entirely part of e-Commerce
e-Commerce apps are a deep investment for small businesses, its payback is usually difficult to predict. Get a brief idea about eCommerce mobile app development from the summary of e-commerce mobile application development aguidelines.
Steps To Build an ECommerce App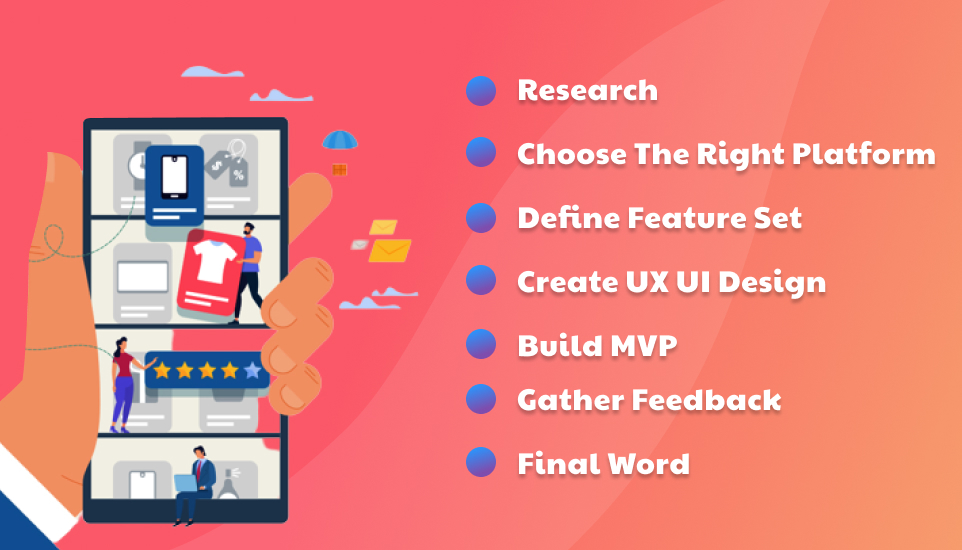 Research
We conduct competitors' research and user interviews, which are crucial for analyzing the target audience's behavior and patterns. It also helps define the right mobile app development platform and the feature set as relatable as possible for our target audience.
Choose The Right Platform
We advise you to get to know the details of your business before deciding what technology to use for eCommerce mobile app development. Keep an eye on the mobile application development cost, and inventory, and select the CMS and a scalable framework. With this data in your hands, it's much easier to select whether you want to launch an Android app, an iOS app, or both.
Define Feature Set
Since you already own users' feedback, expert thoughts, trends, and the itch to beat your competitors, you now understand better what problems your outcome needs to solve and which features can satisfy the end users.
Create UX UI Design
As we mentioned above, the experience in eCommerce mobile application development must go further than in-person shopping, and UX UI design is the opportunity to stand out. Design is running to be your voice and business' individuality for the target customers.
Build MVP
The MVP stage is exactly where you need to concentrate on the most essential features of your eCommerce mobile app development. Instead of executing a full-fledged outcome right away, we suggest going for a constant evaluation of the product, which fuels further revisions. MVP strives to learn what users consider of the product, cut app development time, reduce risks, and give resources more efficiently.
Gather Feedback
When the MVP is released, it's time to begin gathering feedback from customers. It's a method of reviewing how users interact with your mobile app, capturing feedback, and finding possible improvements. Feedback collection is important in eCommerce app development as it enables you to figure out what performs for your target audience and what doesn't.
Final Word
Today's eCommerce mobile app development business is encountering a boom for several reasons: significant usage of smartphones, consumers' desire to seek new, and other global circumstances. Having an eCommerce mobile app creates many opportunities for your business, from quick access to users to a competitive advantage. But the bottom line of the eCommerce mobile app development process is concentrating on the customer and discovering the best user-oriented solution.