Have you been searching for the best mobile app development company lately? Are you confused and stuck about whom to choose? There are a huge number of mobile applications present on several marketplaces, helping customers to do their work conveniently.
However, you will need a top-notch mobile app development company to build your own mobile app. In this blog, you will get an idea to find a reliable mobile application development company for your project. Mobile app development technology has emerged so much in the industry. There are millions of mobile apps revolving around our smartphones and users are getting engaged with them in large numbers.
If you have the bestmobile application development company, you can also develop a reliable mobile app for your enterprise. Companies are implementing several techniques to make a scalable app for their purpose. For every sector, there are mobile apps present on several marketplaces, such as food delivery, taxi booking, grocery shopping, e-commerce, etc.
Native Apps
Native app development is done specifically for the iOS or Android platform. For the best richness, you will effectively be building two distinct native app development with two distinct codebases. Android app development is built in Java or Kotlin for all your Android OS using customers and iOS app development is built in Objective C or Swift for all your iOS using customers. Native app development is expensive and You need iOS app developers, Android app developers, and a longer development cycle.
Hybrid Apps
Hybrid app development is a new and rapidly growing technology. Using specialized platforms like React Native app development and Flutter app development, your hybrid app development team can build a mobile app that works on both iOS and Android platforms with just one codebase. If you have a good hybrid app development company that has skilled, trained, experienced and creative developers, hybrid apps are a way to build reliable, functional apps faster and more affordably.
Design and Development
When developing a mobile app from scratch, you need the two primary talents. There is an app UI/UX designer who helps translate your vision into attractive designs, building app interfaces that look beautiful yet simple to navigate. Then comes the mobile app developer who writes code that can bring the design to life and make it a fully functioning app. So when you talk to a mobile app development company, ask them about the kind of experience their UI/UX designer has as well as the mobile app developer.
Performance
You want an app that's bug-free. Which means it doesn't frequently close or make errors. You need an app that performs fast. To make your app reliable, your developers must develop an app that loads up in under 2 seconds, or your users won't be happy. Get in touch with your best mobile developers who know clearly that you won't be accepting any sub-par product.
Qualities Of Mobile App Development Company?
The most prominent thing that will be asked by the software development company is what is the purpose of the app you are going to need. Mobile app developers must be familiar with your idea so they can successfully digitize it. The next important step for the mobile application development company is to understand all the functionalities you want the end product to have.
It is more important to know exactly what you want to explain to the company well, otherwise, there may be unnecessary changes in the app. To reach the top in the play store or app store, you require particular things that go further than the regular things currently in the market.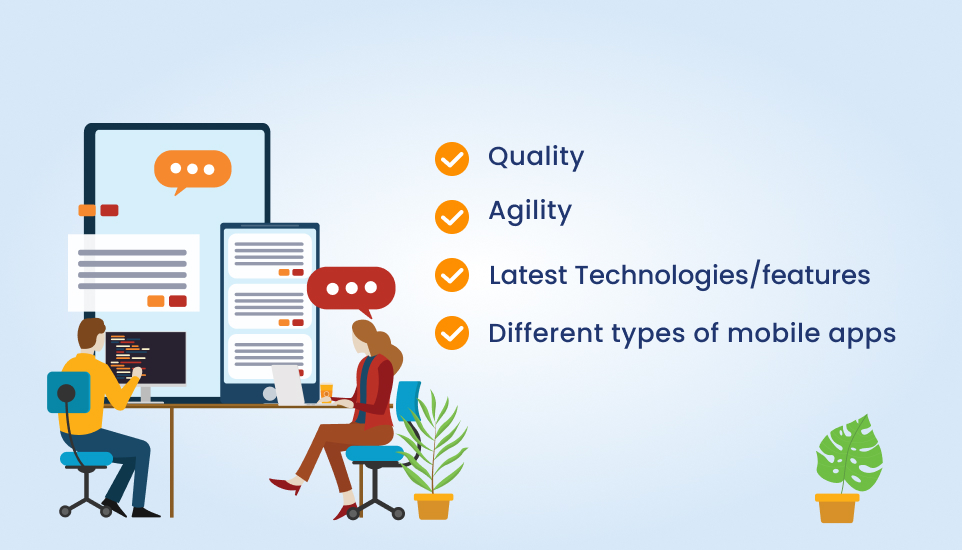 Quality
If the development company you choose will understand your requirements and needs then it will be able to deliver a quality mobile app. Make sure they follow perfect quality check operations. This is the only way to expect the best quality services.
Agility
Agile methodology for app development is different from the most traditional approaches where the client has to wait until the project is delivered in their hands. The agile method approach is about an effort between the client, end-user, and cross-functional teams of the mobile app development company.
Latest Technologies/features
Like every sector, the development of mobile applications also keeps on evolving. The trends of the development industry change at a fast pace. Therefore, make sure that the android app development company or iOS app development company you are selecting possesses technical know-how and potential to follow these trends.
Different types of mobile apps
Checking the potential of a software development company is going through the types of mobile apps they have designed and developed. Each type of mobile app has its own potential to attract a huge audience and competition is almost every play store or app store. The company which you will select must have iOS app development, android app development, cross-platform app development, flutter app development, progressive web app development company, and hybrid app development in their list of services.
Conclusion
To sum it up, hiring the best app development company for your project involves talking to a lot of people and asking the right questions. Having done that, you will get a clear idea of what to look for in a good company. Time to start scheduling some consultations.