Every day a new mobile application is born. Every day an idea becomes a mobile app and enters the market. The cost of developing mobile apps has come down because of mobile app development outsourcing. If you're wondering whether to outsource mobile app development or hire an in-house mobile application development team, this blog is for you.
Once you've decided to go for a mobile app development for your business, you will face a tough choice. Outsourcing app development also lets companies gain access to highly qualified employees from whom in-house developers may learn about new trends and best practices.
And, the right way to determine an ideal outsourcing partner is to look for an outsourcing company that puts a real effort into understanding your mobile app idea before giving an estimation and getting started with development. Is it better to hire your own in-house mobile application development team or find an outsourcing mobile app development company? In this blog, we'll go through each and every specification and requirments.
How To Outsource Mobile application Development In Simple steps
So, you've got an app idea that truly gets you moving, and now you are prepared to move forward with it. What is next? For those of you who have chosen application development outsourcing instead of moving with an in-house team, we've come up with several steps that will assist you set the ball rolling. Defining your needs for the future product, tips for exploring an outsourcing organization, and other factors that need to be taken into account when making a decision — this instruction covers all the basic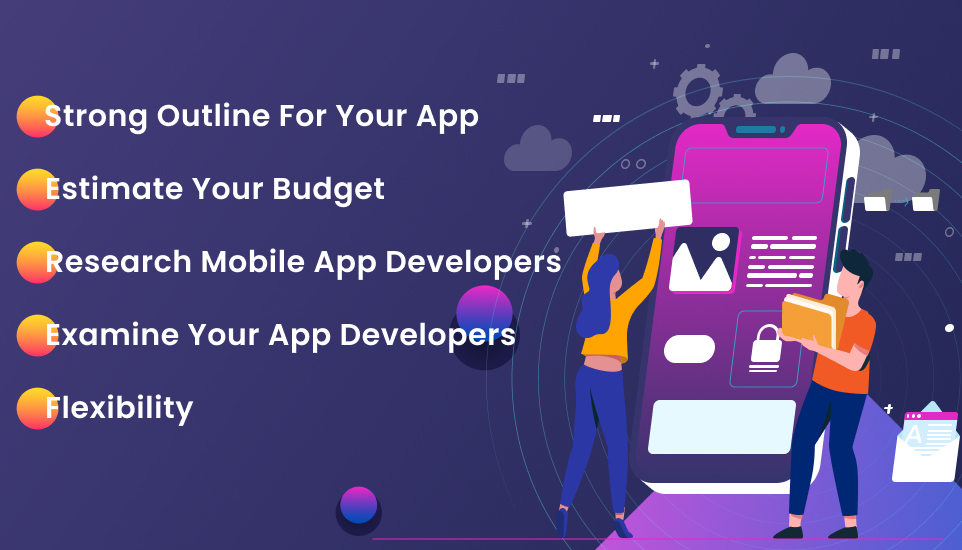 Strong outline for your App
Good Android application development and iOS application development companies will assist you with extra market research and business analysis, but it's important to have your own clear idea of your product. This will make it more comfortable to find a service provider and confirm expectations of what you want to receive at the end. Furthermore, if you prefer to work with mobile app developers instead of a company, the transparency of your outlines becomes even more invaluable and miscommunication can provide you with an application entirely different from what you wanted.
Estimate your Budget
Depending on how much budget you can allocate for the app, the companies at your disposal will differ. It's crucial to consider all your alternatives taking both price and quality into account. We would also suggest not rushing into suspiciously cheap deals as they might cost you additionally in the long run. Working with freelance app developers with the lowest rate may put you at risk of acquiring poor-quality code, and in some circumstances no code at all.
Research Mobile App Developers
From various Android application development companies and iOS application development company companies, you'll need to select those that fit your set of requirements. There are three types of application development providers classified by their location in regard to you: onshore, nearshore, and offshore. When you explore how to outsource app development, you'll need to choose the location pretty early on, as it will impact your contact with mobile app developers.
Examine your App Developers
First, go through the portfolios of that company or at least some sort of certification. This is direct proof that the company or its mobile app developers have relevant experience. If the relevant experience does exist, we'd suggest investigating further, for example, downloading the app to make sure it works. Most services like Clutch reviews, Google reviews, and some of those reviews are completely detailed, listing both strengths and drawbacks of a particular company.
Flexibility
One of the main principles of a successful Android application development company and an iOS application development company is flexible software development methodologies, like Scrum, Kanban, etc. Such techniques for software development require the process into small parts, so-called sprints. The result of each sprint is a fully functioning new feature or part of a digital solution. Therefore, you won't have issues with switching plans in the middle of the app development process. Your app development team will quickly complete the necessary shift and alter the processes according to the modified business requirements.
Conclusion
Finding a reputed company for outsourcing is not an easy task, what with the number of companies and individual app developers on the market. But working with the right company is not only helpful for your product and your business, but it's also a pleasant experience. In this guide, we provide you with the most important pointers and guidance so you can find what you're looking for.