With over 2.7 billion people using smartphones and around 22 hours a day! Theon-demand mobile app development service is the next big step for startups. Digitize your business with exceptional on-demand mobile application development service apps to provide best-in-class mobility solutions for delivery businesses.
From large business enterprises to startups launching their next on-demand iOS app development / Android app development, they need support from on-demand mobile app development companies. The company offers On-Demand App development Solutions for Food delivery, Grocery delivery, Ticket booking, home cleaning services, Ride booking & various on-demand mobile apps ideas. The main reason why this on-demand mobile application development is trending and top-rated among the customers is that they save time and effort.
Due to its versatility and flexibility, an on-demand business model suits any industry. If you are thinking of developing an on-demand mobile application for your business, you need to be aware of on-demand app development industry leaders, essential app features, and the mobile application development costs listed in this guide.
On-Demand Mobile App Development Strategy And Features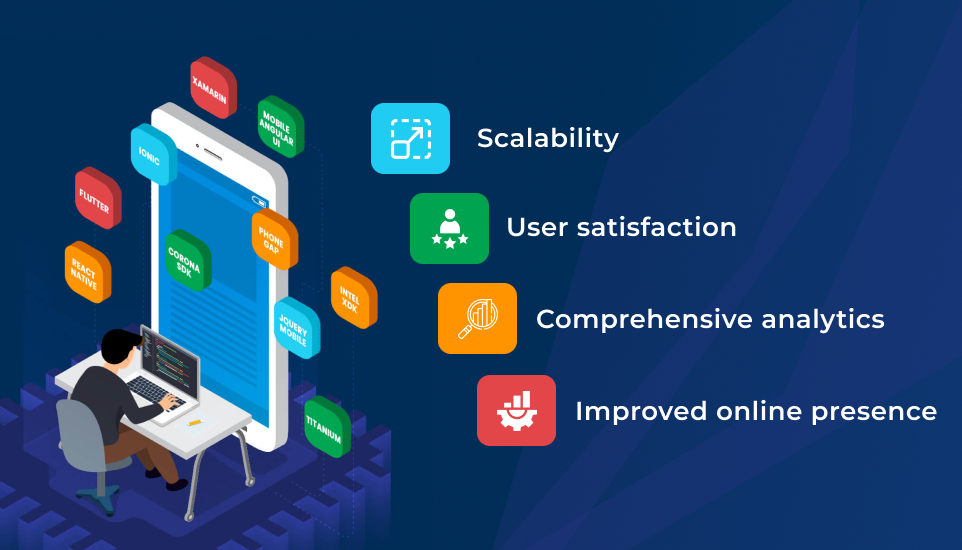 Best Mobile Application Development Company
1. User Registration and Profile
If you want to create Android app development / iOS app development for your business, you should provide the ability for consumers to register. However, for an on-demand mobile app development marketplace, you need to create registration forms for both the users and companies.
2. Identify the purpose of your app
Based on the initial idea of your mobile app startup, you should study the market, talk to sample target audience, users of your competitor's apps.
3. Scalable Development Platform
An on-demand mobile app needs a regular upgrade, functionality, maintenance, in addition to keeping the app robust, secure, and aligned with the trends. Investing in non-scalable mobile apps may result in revenue loss in the future.
4. Secure and Bug-Free App Development
It is very essential to keep the codes, and functionality bug-free and secure. To achieve consistency the app development team should be proactive in designing, coding, testing, and implementing the application as per the defined process
5. Map Integration
With this map integration feature, the users will know the location of your business on a map or find the best companies providing on-demand mobile app development services near their location.
6. Real-time Tracking
With this real tracking feature, users will be able to track where the courier is and what the expected delivery time is
7. Get updated with emerging new technologies
since mobile technologies are evolving, it is highly recommended for startups to keep the features up-to-date and efficient to give the utmost user experience.
What makes on-demand Mobile Application Development so popular?
A clear benefit of on-demand apps is their versatility. It means that this concept will work for a number of industries. So let's take a look at the key reasons why you should invest in on-demand Android app development or iOS app development for your business
Scalability
You can start with on-demand app development for your business solely. Yet, in due course, you can add other companies and thus, turn it into an on-demand marketplace. You can monetize your platform by taking a commission of each transaction that takes place on your on-demand marketplace.
User Satisfaction
By allowing users to book a service or order a product with one click, you better satisfy their demands. In this regard, on-demand app development can help you improve customer retention and grow your business.
Comprehensive Analytics
It gives you valuable insights into customers' behavior. By analyzing the data, you can determine what services they like most and what prevents them from making purchases. With this information, you will be able to improve your solutions and provide better customer service.
Improved online presence
Today it is not enough to have a website to help your customers find your business online. By investing in on-demand service app development, you take your online presence to a higher level.