Technology never stops growing. Now, the biggest and trendy upcoming thing in mobile application development is "5G Technology". This Trending technology brings evolutionary change to the landscape of the internet. 5G (Fifth-Generation Wireless Cellular Network) built for delivering high-speed performance. Currently, industries andmobile app development companies are using the 4G network because of its multiple features, now, 5G has become the best alternative for it. 5G allows mobile app developers to build and explore new platforms & create reliable applications for Android app development and iOS app development that offer personalized and quicker user experiences. Let us know the impact of 5G on Mobile App Development
"What Is 5G" in Mobile Application Development?
5th generation wireless technology is not only a faster network it delivers more reliability, ultra-low latency, a more uniform user experience, and massive network capacity to more mobile application development users.
Before 5G
1G : 1st Generation of the wireless network introduced in 1979 which helped people to make simple calls through cell phones.
2G : 2nd Generation of the wireless network introduced in 1991 and it comes with the features like voice calls, text messages, and internet facilities with the speed of 10kbit per sec.
3G : Launched in the year 1998. It has an internet speed of min 200 kbit/s & a maximum speed of 14.7 Mbit/second. It has features like sending pictures, making video calls, and more.
4G : 4G introduced in 2008 brought all-IP services like Voice, Data, and a fast broadband internet experience, with the unified networks protocols and architectures.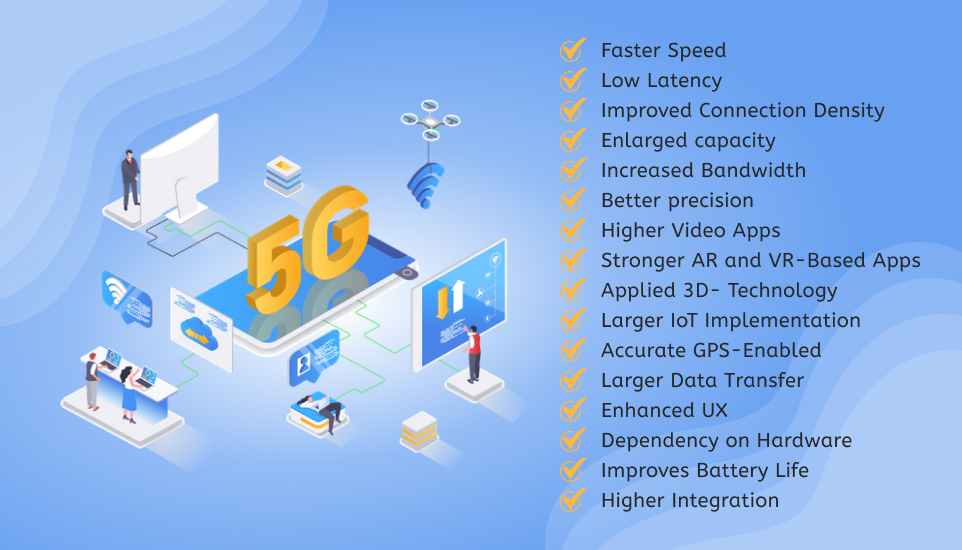 Best Mobile App Development Company
How 5G technology changes the field of Mobile App Development
The 5G network has become a game-changer for the whole world especially in the field of Android app development and iOS app development. With the 5G Technology, the world of the internet gets a major boost. 5G wireless technology is beneficial for everyone and influences the mobile application development field. It will definitely benefit users and mobile app developers with its features and user experience.
Faster Speed
The main aim of 5G is to provide a fast and smooth cellular connection. 5G comes 100 times faster than the 4G network. It transfers a vast amount of data and downloads the data at a lightning speed. The Speed range of data transfer is between 50 Mbit to over 2 Gbit.
Low Latency
5G shows the average latency in just one millisecond but the average latency of the 4G network is 50milliseconds. URLLC (Ultra-Reliable Low Latency Communication) allows data transformation between devices with less time.
Improved Connection Density
5G supports millions of devices but 4G connects 2,000 devices within 0.38 square miles. 5G is best for mobile app developers with its faster speed, low latency, and power usage.
Enlarged capacity
Service providers struggled to provide successive connectivity to a large number of people. Now it is possible with 5G and it comes with increased connection densities, speed. It is a larger optimization of network and traffic and easy handling of usage spikes. 5G helps flawless communication with machines, sensors, hardware, and many components.
Increased Bandwidth
5G providers greater connectivity, it has a low wavelength and a better radio frequency than 4G.
Better precision
5G bandwidth offers improved responsiveness and also supports precision capabilities.
Higher Video Apps
With low latency, higher speed, resolution, and smoother performance, video apps surely show outstanding improvements. With the usage of 5G Technology, video applications level up the quality
Stronger AR and VR-Based Apps
AR and VR are stepping into the world of mobile app development. With the usage of 5G, users can have a better experience through online apps. Moreover, eMBB (enhanced mobile broadband) enables mobile app developers to come up with out-of-the-box interfaces with suits industries, factories, etc.
Applied 3D- Technology
3D is an already existing technology. Mobile apps that are enabled by 5G can be combined with 3D printing for developing 3D models. The 5G wireless technology improves the entire system's energy and capacity. It works with multiple sectors like construction, education, health, and many more.
Larger IoT Implementation
Everyone knows how mobile apps are connected to TVs, smartphones, and many more. Google, Alexa, Siri go to the world of IoT. 5G helps it to take it to the next level. With the advancement of AI and many interconnected devices, 5 G-enabled applications will influence everyone.
Accurate GPS-Enabled
Most common issue is faced with a slow internet connection and it is solved with 5G. With its high speed, connectivity, and endless communication, mobile app development based on GPS applications works more efficiently.
Larger Data Transfer
With the 5G technology, users can transfer a vast amount of data quicker. Android App Development / iOS app development has been increasing productivity and enhancing user experience. Through this, industries utilize the data efficiently.
Enhanced UX
5G Technology improves responsiveness and speed of the applications, improves connectivity, loading speed decreases, and increases visual clarity that results in significant changes to the user interface. By utilizing these features, mobile app developers can improve the functionalities of applications. Through this, the performance of applications is better and can drive more downloads.
Dependency on Hardware
With the high-speed connection of 5G communication between devices increases and with the faster data transformation, mobile apps will not depend completely on the processing power of the smartphone's hardware.
Improves Battery Life
Battery consumption decreases with its low latency, higher speed, and less dependency on hardware. 5G extends IoT and mobile devices' battery life, with this users can benefit from the apps that work longer.
Higher Integration
5G allows mobile app developers to integrate various technologies into their mobile applications.