Idea, plan, and implementation. These are the three main pillars of any mobile app development project's success. In the present modern IT world, it's difficult to determine success with 100% confidence. However, if you spend adequate attention on each of these bases, your chances to reach the top in the business grow. The path to success in a mobile application development business starts in different ways for each of us.
But we all manage to choose a plan that will help us in the mobile app development business as easily as if it was written on the map. Revenues from mobile apps are constantly growing. According to the reports, the Google Play Store has more than 2.56 million apps and the iOS App Store has more than 1.85 million applications and thousands of new mobile applications go live every day.
We have thoroughly analyzed the effects that our clients and partners have come to us with, including the performance of their projects, and examined how a tech mobile app development company startup business plan impacts the overall success. If you want to start an Android app development or iOS app development business or expand your current Mobile App, you clearly need a business plan
Why Make A Mobile Application Development Business Plan?
The most prominent reason why mobile application development companies make a business plan for building an app is to bring in more and more investments. This is to attract investors and even start-up co-founders, and sometimes you need to have the support of both. An effective business plan will help your idea be represented in a crystal-clear way while displaying the scope of your android app development and iOS app development concept and idea as well.
Un-planned actions concerned with risks and risks in business are similar to cost-inefficiency and loss. When you make a business plan, you really map out the entire journey of your business, something that can provide you excellent insights into the many probable risks. When executing big decisions, it is common to forget and ignore certain essential aspects that can make the foundation of your business at a much later stage. However, when you have a blueprint including a set of points and aspects, it becomes easy for you to remember them.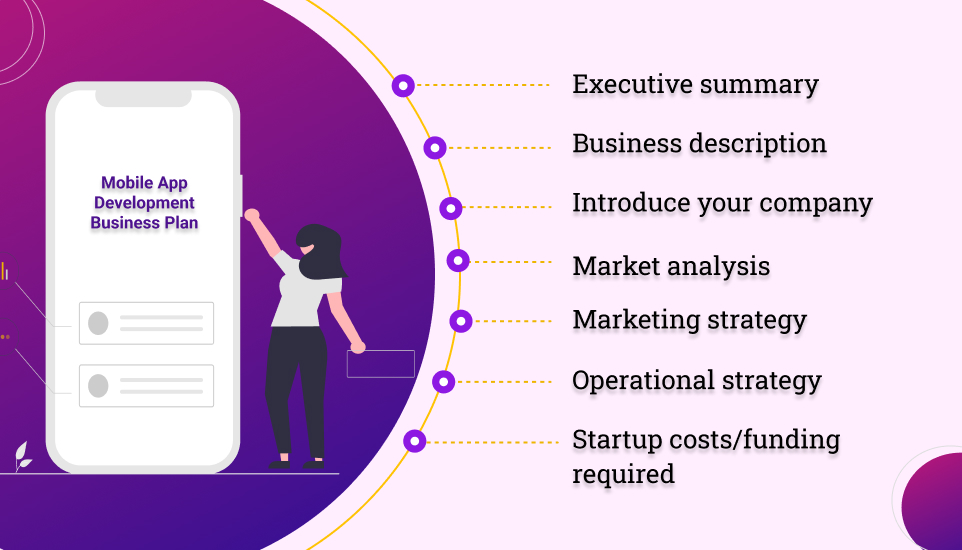 Best Mobile App Development Company
What does a business plan for a mobile app look like?
Executive Summary
This is the introduction to your successful business plan. This is the first thing your possible investor will see when becoming attracted to your idea. Make it clear and striking, and answer these questions in your summary. Specify your goals. Investors will be examined to see whether your goals meet their needs. You also have to discover the final goal of your exit plan. In addition, to improve the attractiveness of your mobile application development company, you need to create a list of funding elements that will be used. One of the important factors in the success of a mobile app development company is ensuring maximum transparency at each stage.
Business Description
In this section, introduce your business, your company, and finish with your app concept. This part of your business plan will show investors the corporate values of your company, your mission, how you see your product, and what you consider the key factors for the success of your product. This information is vitally important for investors. In addition, this fund helps to build products and find more investors.
Introduce your company
Here you should describe your company:
Type of entity – Are you a privately owned organization or LLC?
Location – Where is it located?
Duration – When was the organization established?
What is the team size of your company?
What are the difficulties your company is currently facing?
Do you operate off-shore as well or not?
What is the ultimate goal of the company?
What is your vision?
Market Analysis
Information about the state of the market should be the central factor in the success of your app development idea. You should be aware of the status of the market in your industry, have the current information, and make a short-term forecast. Thus you should have a prepared marketing plan. The market summary section of your business plan proves the viability of your project.
Marketing Strategy
A solid mobile app business plan should describe how your android app development or iOS app development will get to potential users of Android and iOS smartphones. Your goal is to assess whether there are enough customers in the market, whether there's a real market for your product, and, accordingly, whether those customers are ready to pay enough money to solve their problems. Try to satisfy the customer that there's a need for your unique application.
Operational Strategy
Stating the plan about your daily operation gives an impression of awareness and willingness on your part to the investors, something which always works in their favor. This also covers your plan for customer relations. You must describe and plan out how you are working to handle customer services and manage quality assurance. It includes how you are going to build the app development process and manage it.
Startup Costs/Funding Required
Inform your investors about estimated costs. Since such numbers might vary, our advice is to set reasonable estimates and leave room for extra expenses.
Designate all types of costs:
How much money do you require?
What percentage of property are you proposing to give in return?
Is this going to be an equivalent note or a preferred stock?
For what duration this money will suffice before you need to propose another funding round?
Conclusion
Writing a successful business plan for an app startup isn't easy. Your concept should be carried with knowledge about your business, qualitative and quantitative analysis, and effective research. A successful business plan has to show that your company is financially attractive. The greater the viability, the higher potential for investment. You might need to trust an expert mobile app development agency to take care of your business plan. Let's hear your app idea!