How many times have you installed an app from the App store, used it once, and then deleted it? Maybe you're in a restaurant and want to order your meal with the app but you're away on business and unlikely to use it again? Or you're on a holiday and you want to hire a bike or a scooter for the day but it isn't something you're likely to do again when your vacation is over? So, here comes the iOS 14 App Clips.
There's no need to download the full app. You just simply download its App Clip, a small part of the main app that does exactly what you need and then disappears. iOS14 App Clips enables you to do here-and-now activities using your device without sacrificing privacy, info, or sharing your geolocation. Apple has announced a new feature called "App Clips," for iOS 14. This iOS 14 App clip gathers the information from relevant apps throughout the ‌iOS 14‌ interface, without requiring you to download an entire app.
Apple's App Clips is the future and evolution of applications, especially for apps that you don't use on a daily basis. Apple's App Clips are about making applications as seamless and smooth to use as the web. They are fast and eliminate the barrier to entry that is downloading an app from the Apple App Store.
How do App Clips work?
The Apple App Clips for iOS 14 feature will let all kinds of businesses create small versions of their applications for quick access by users. Restaurants, Retailers, and other service providers can create their customized App Clip codes for people to scan with their iPhones, helping them to speed up their transactions and make them more convenient.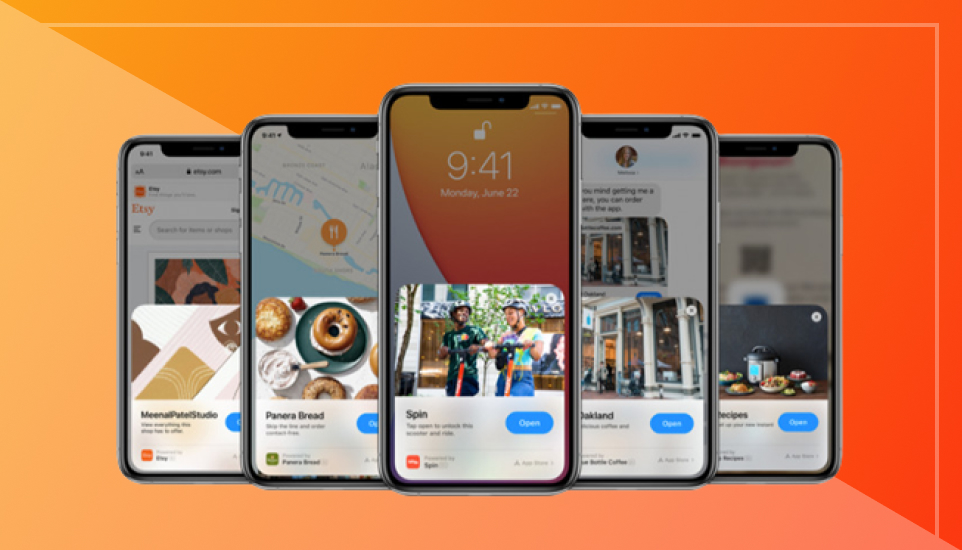 To protect the user data, Apple's App Clips for iOS 14 cannot access:
Motion and fitness data
Apple Music and Media
Data from apps like Files, Contacts, Messages, Photos, and Reminders
Apple's App Clip cannot share the data with any other app
We gather this comprehensive guide to assist you in having knowledge about Apple App Clips. Our experienced team of mobile app developers will build authentic designs, bug-free, and tested mobile apps using cutting edge latest technologies. mTouch Labs follow an agile development methodology and practice the quality lifecycle for every mobile application development. If you're looking for App Clips, we are the perfect partner for your business. Our mobile app developers make this technology to optimize your business and attract customers around the world.
>