Our mobile phones are our part of life and move with us all day. Websites have been taken over by mobile applications. Mobile Applications are demanded to have accurate and quick responses. At mTouch labs, we believe that mobile app development are not copies of your website; they are an expansion of the beloved brand you have created. The process of app development, whether an android app development or an iOS app development, includes designing, coding, testing, rolling out, and fixing bugs.
mTouch Labs helps you choose the suitable route to create the perfect mobile app for your business, either android app development or ios app development with the ultimate objective of a rich user interface experience. Additionally, we ensure that the features used in your android app development or iOS app development are easy to use while still maintaining the unique essence of your brand. We help you understand the concept and select a mobile app development technology that enables your desired output is our priority. To make the choice easier, let's examine each of these technologies.
Let's have a look into Android App Development and iOS App Development
We help you understand the concept and select a mobile app development technology that enables your desired output is our priority. To make the choice easier, let's examine each of these technologies.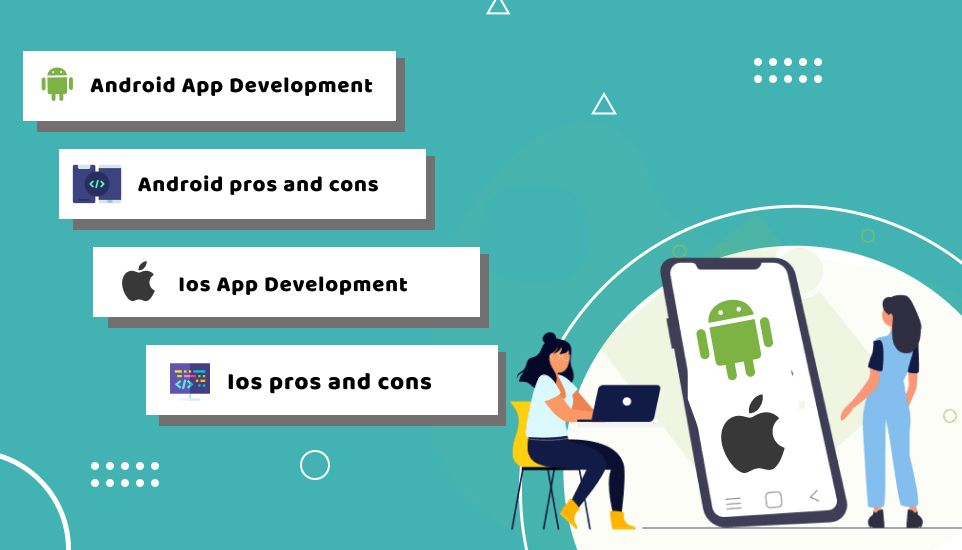 Android App Development
Our comprehensive range of custom Android app development company helps to boost your business with advanced technology and optimal cost and help you accomplish your goals. We offer highly-customizable Android application development as per your specific requirement and deliver outstanding quality – enabled products to stay within budget and on time.
As an Android application development company, our focus is on Android app development firms of all kinds to cement their presence in the Google Play Store. With a strong focus on Android application development solutions, backed by more than two decades of the top mobile app development company, we'll help you tackle any problem with future-oriented answers.
Android pros and cons
1. Massive selection of hardware: A number of Android mobile devices are available at various prices, with differing hardware capabilities, screen sizes, and features.

2. Highly customizable user experience: The home screen can be customized with not just application icons but also widgets that allow the user to stay informed. Moreover, you can choose from various places to install Android applications on your device other than the Google Play store.

3. Strong and secure: Android operating system connected to the Google ecosystem of services is strong and arguably more useful compared with Apple' OS cloud services suite.
iOS App Development
The world's most beloved mobile operating system, iOS application development is also fun to develop apps for. iPhone is one of the top brands in smartphones and building an iOS app for the iPhone device requires understanding more about your business approach and your brand, enrich User experience design, and build a perfect iPhone app.
mTouch Labs is an iOS application development company that builds great iPhone Apps for startups, real estates, enterprises, and brands. We have worked with various Industries and thanks to our customers for having a trustworthy relationship.
Our iOS app developers utilize modern robust technology to conceptualize and build custom iOS app development for your business. We have delivered many process-driven and industry-specific iOS apps for our clients across the globe with our cutting edge iOS application development technology services.
iOS pros and cons
1. The interface is locked down: Limited customization options for the iPhone mobile home screens, only the rows of app icons are allowed. No other third-party apps are pre-installed by the wireless carrier. Users only can install apps from the App Store

2. Deeper integration with Facebook and Twitter: It is much easier to post updates and share them on social networks using iOS.

3. iOS only applications like FaceTime, Passbook, and mobile payments are app Square (which are available on iOS 3GS,4,4S, versions up, nut only for limited Android phones)

4. Software upgrades: Apple frequently offers software upgrades to all the iOS devices that have the hardware capable of handling the new software. This means the device stays current with various software features for at least two to three years.

5. Better privacy controls: iOS phones offer better control over the access apps which have private information of the users such as contacts and location.