The world has been awaiting the 5G revolution tech, which has tremendous potential to change the next generation of the internet. 5G technology is expected to hit the world just like 2G tech hugely did for SMS, 3G did for web browsing on mobile phones, and 4G for content streaming. As the upcoming generation is wireless technology, it's time for every mobile app development company business to develop and get ready for the future.
With 5G technology, mobile application development companies would be able to enable the power of cloud technologies and data restrictions will become a matter of the past. Mobile experts at mTouchlabs, a leading world-class mobile app development company in India, take a look at how the mobile application development companies would transform with the 5G revolution and what it means to businesses, users, and developers. Here, In this blog, we will discuss the 5G innovation and dive directly into what mobile app developers have in mind and its effect on mobile app development. However, before progressing further, let us have a look at what 5G really is.
How to prepare your Mobile App Developers for the 5G technology in Mobile App Development
While 4G technology is assisting us with constant connectivity, speed, accessibility, convenience, and many other things, customers always demand even better technology. Instant communication without any interruption is the demand of the crowd right now. Whenever a technological feature is introduced in the market, industries from multiple sources are put behind to make room for more development and an even more modified version.
The growth of mobile application development technology is endless, like the flow of water. 5G tech is a transformational technology that provides high-speed internet connectivity, which is more constant and makes faster downloads. It aids the transfer of huge amounts of data in real-time from connected devices. 5G is based on 4G & LTE, which is expected to increase connectivity and speed tremendously. There are cases that 5G tech will be 10 times quicker than 4G. It will perform very fast communications and uploads and enable us to upload 3D-capable content and UltraHD quality seamlessly.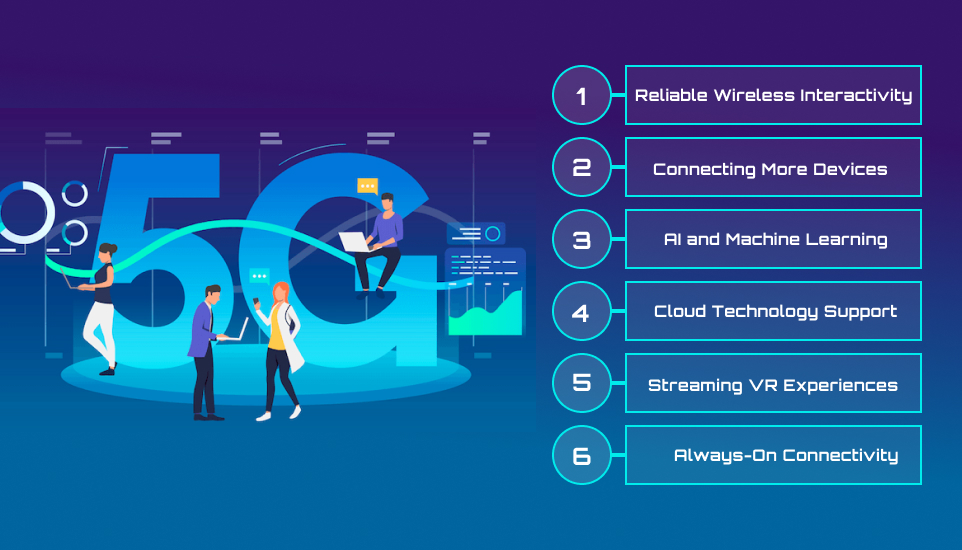 Best Mobile App Development Company
1. Reliable Wireless Interactivity
Development for the current generation of Android app development and iOS app development revolves around several practices meant to deal with current technologies. Granted, 4G and LTE are much faster than 3G in comparison, but they still have their impediments. With mobile games, for instance, users still have to install an additional data package on top of installing the game. This is true of mobile apps that require large data packages too. Because of this, mobile app developers have to work in waiting periods for each of their apps with a download process. In terms of mobile application development, this will also change the way in which developers approach the same problems.
2. Connecting More Devices
IoT is a hugely successful section of the tech market and for a good reason. Consumers are buying into a variety of technologies such as smart home gadgets, wearables, and wearable sensors. Thanks to more secure wireless support from 5G, mobile application developers will draw in and take the advantage of these new devices.
3. AI and Machine Learning
Driverless vehicles will connect wireless networks to obtain a massive quantity of data. Should the vehicle speed up or slow down to prepare for the approaching yellow light, for the case? You can see in this situation why AI and machine learning can take advantage of reliable wireless support. With the birth of 5G, Android app development and iOS app development will have even higher access to related opportunities.
4. Cloud Technology Support
The concept of software-as-a-service has largely remained available on desktops because more often they have access to a continuous and stable internet connection. There are some mobile apps and services that satisfy this idea on mobile, but it's not as accepted. However, cloud technologies will become much more prevalent on mobile which means access will open up to mobile app developers and designers for these kinds of systems and platforms.
5. Streaming VR Experiences
VR technologies are really rising to ramp up in terms of adoption, not just on a consumer level but also with mobile app development technologies too. You need to have a VR headset and download the necessary applications and data to feel truly virtual environments. Streaming through VR is largely impossible in today's landscape because of severe latency, performance, and reliability concerns. 5G will reduce all those problems, obtaining that VR experiences will be streamed over the airwaves. This opens up mobile app developers to new options as far as delivering these kinds of experiences to their users.
6. Always-On Connectivity
By nature, 5G is more stable than before technologies and also more capable. That means the hardware and devices that users will have access to are less likely to disconnect from the network and have greater internet. This kind of connectivity means mobile app developers can take advantage of the advanced ambient connectivity.vImagine an Android app development or iOS app development always connected through the mobile network to a server, sending data and receiving information about the surrounding areas.
Conclusion
mTouch Labs has years of experience and expertise in addressing specific issues of businesses with the help of custom-made mobile apps. Mobile experts at mTouch Labs have proven experience in resolving all the complexities involved in the development of innovative and unique, and custom-made mobile applications. If you are looking for the next generation mobile app development, contact our mobile app developers and turn your idea into reality.