In the past few years, the cross-platform mobile app development concept has taken off in a huge way. It allows the mobile app developers to write the code once and deploy it across all platforms like – Android app development, iOS app development. Hybrid mobile application development is very much crowded these days with several structures, software development kits (SDK), interfaces, and many programming languages. Mobile app development was getting to be quite challenging in terms of cost, effort, production, and marketing.
Now, you must be wondering what cross-platform mobile application development is? Well, if you are new to this term, you must be aware of everything about cross-platform mobile suite development. Here in this blog, you will know about the top benefits of cross-platform apps like various Android app development and iOS app development and their need in the industry. After the introduction of cross-platform mobile apps, the life of mobile applications has quite changed. It has become much simpler now to access any product or service from your smartphone. The cross-platform app is usually a suite that is compatible with all the OS. It includes Android app development, iOS app development, and many more.
Benefits of Cross-Platform App Development
So, if you are developing any hybrid mobile app for your business, you should consider developing a cross-platform mobile suite. This will make you reach out to the customers by eliminating all the boundaries. There was a time when cross-platform app development did not even exist. As a result, iOS mobile apps would not be available to Android users, and the various Android games could not be played by. Here are some of the major benefits that cross-platform app development can provide you with.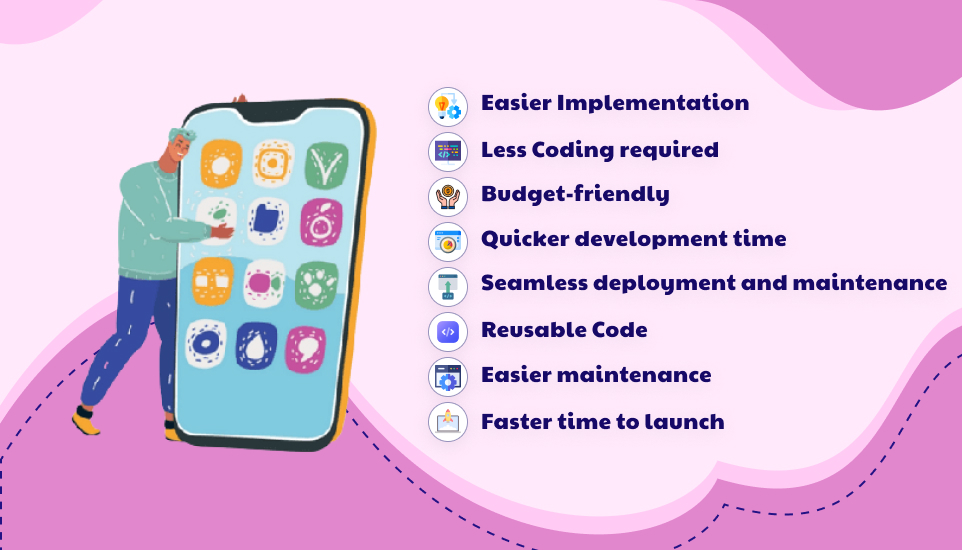 Cross-Platform Mobile App Development Company
1. Easier Implementation
These days there are a number of technologies, like PhoneGap and Appcelerator, offering a reliable cross-platform app solution that makes it easier for mobile app developers to make changes. For example, when a tool like Appcelerator is used, codes can be written in HTML 5 and turned into for different platforms. This makes the app development quicker and also makes it easier to sync updates across all mobile devices.
2. Less Coding Required
Once you have assumed what the coding for a specific platform will be like, you can go forward and reuse that piece of coding to fit your other apps under the cross-platform suite. The fact is that most of the mobile apps did not develop cross-platform properties since they wanted their mobile application to be tied in with the platform, but the business strategy quickly changed as the profitability factor was considered in cross-platform attributes.
3. Budget-Friendly
Recent app developments in technology have provided for apps to be built with a cross-platform orientation right from the beginning. So, in order to fit your app into all the three major platforms, developing the mobile app all over for each platform is no longer required. You can develop the app only once and assure that it fits into all the digital spaces. However, if you are developing any android app development or iOS app development that will have to fit into spaces having different design requirements, then that mobile app design will need to be done freshly.
4. Quicker Development Time
App development is much faster when a single script is deployed for both Android app development and iOS app development. Time can be spent on thinking out and working on codes for a brand new mobile application. A win-win job for all concerned – mobile app developers, marketers, and consumers.
5. Seamless Deployment and Maintenance
As there's only one mobile app that is developed that runs over all of the platforms, it is quite easier to maintain and even deploy code or easily make the changes. Also, any app updates can easily and immediately be synced across all devices, hence saving time along with money. Also, in case any bug is found in the common codebase, eventually, it can easily be fixed once. Hence, it allows the mobile app developers to save a lot of time as well as money.
6. Reusable Code
One of the amazing things about this platform is that the entire code can simply be used again and again. Rather than the mobile application developers developing new codes for each and every platform, a single code can simply be reused. Hence, it saves time and energy along with resources as it eliminates repetition in the duty of keeping creating codes.
7. Easier Maintenance
Another great motivation to build a multi-platform app development interface is its easier maintenance. When you are developing a multi-platform mobile app, you can ensure its support with easy steps. With a few changes in the code, you are ready to roll. Further, when the app developers find any bug in any code, they can just fix it at once. It is because the cross-platform mobile applications have reusable codes. On the other hand, all the app updates you make to your mobile app can also be easily synced. And this is what helps the Android and iOS app developers save more time in maintenance.
8. Faster Time to Launch
Any mobile app that once earns popularity will always be popular among the users. In such cases, the cross-platform mobile apps that you are eyeing have acquired the market before. So, if you are planning to launch something unique, you must proceed faster to the market. And that is the only way possible with the help of multi-platform Android App Development and iOS app development. Now that you are crystal clear, you should always prefer Cross-platform application development for your business application.
Conclusion
Developing cross-platform interface applications is always good for your hybrid mobile app business. With maximum and wider audience reach, you can generate more leads and a reputation as well for your business. But you should also make certain that you are choosing the best mobile app development company that provides a seamless mobile app with easy and reliable access for users.