mTouch Labs is a professional Milk Delivery App Development Company, specializing in the creation of milk delivery mobile and web applications. Our milk delivery mobile app development services encompass the entire process, from conceptualization and design to development and deployment. We ensure that the app is compatible with both Android and iOS platforms, providing a wide reach for your business.
As a leading milk delivery app development company, we understand the importance of creating a seamless and user-friendly app. In addition to mobile apps, we also specialize in creating milk delivery web applications. These web apps enable customers to conveniently place their orders and manage their subscriptions online. Our web apps are built to be responsive and scalable, catering to a diverse range of user devices.
Milk Delivery Web App Development Company
As a milk delivery web app development company, we follow a systematic approach to create the perfect web app for your business. Our team will first understand your specific requirements, conduct a thorough analysis of your existing operations, and then design and develop a customized web app that meets your needs. At mTouch Labs we specialize in milk delivery web app development and have a skilled team of developers to create a tailored solution for your business.
Are you in the milk delivery business and looking to streamline your operations? Consider developing a milk delivery web application to enhance your customer experience and improve efficiency. A milk delivery web app can offer various features such as easy online ordering, recurring subscriptions, real-time tracking, delivery schedules, payment options, and customer support.
Milk Subscription App
Are you tired of running out of milk constantly? Look no further! Our Milk Subscription App is designed to ensure you never go without milk again. With a simple sign-up process, you can have fresh, farm-to-table milk delivered to your doorstep on a regular basis.
Our Milk Subscription App goes beyond just milk. It serves as a comprehensive Dairy Product E-commerce App, offering an extensive range of dairy products, including cheese, yogurt, butter, and more. Shop conveniently from a wide selection of dairy goodies, all sourced from reputable local farms.
For those looking to start their own milk delivery business, our Custom Milk Delivery Software is the perfect solution. Seamlessly manage customer orders, track deliveries, and optimize routes to enhance efficiency
Milk Delivery Mobile App VS Milk Delivery Web App
Milk delivery apps are mobile applications that users can download and install on their smartphones. These apps provide a user-friendly and intuitive interface, allowing customers to easily browse through available products, place orders, and make payments. With a milk delivery app, users can effortlessly schedule their milk deliveries, and track their deliveries in real-time.
A milk delivery web app is accessed through a web browser on various devices, such as smartphones, tablets, or desktop computers. Unlike mobile apps, web apps do not require installation and are accessible with just a URL.
Both milk delivery mobile apps and milk delivery web apps have their own unique advantages. While the mobile app offers convenience and device-specific features, the web app provides accessibility across various devices without installation.
How to Develop a Successful Milk Delivery Business App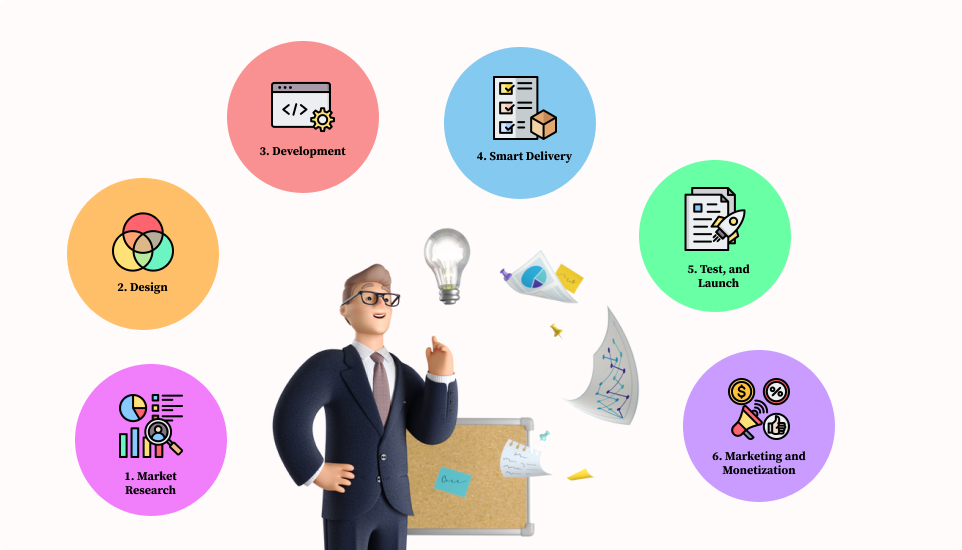 In today's fast-paced world, convenience is key, and consumers are increasingly turning to milk delivery business apps for everyday needs.
Market Research

Identify your target audience, analyze competitors, and understand their app features, pricing strategies, and customer acquisition techniques.

Design

Focus on creating a straightforward and intuitive design that enhances the overall user experience.

Development

Cross-platform apps, on the other hand, allow you to develop for both platforms simultaneously, saving time and resources.

Smart Delivery

Incorporate smart delivery features that optimize route planning, track delivery personnel in real time, and provide delivery notifications to users.

Test and Launch

Perform extensive quality assurance testing to identify and fix any bugs, glitches, or performance issues.

Marketing and Monetization

Implement various marketing channels such as digital advertising, social media campaigns, influencer partnerships, and content marketing to attract app users.
Benefits of Milk Delivery Business App & Dairy Farm Mobile App
A Dairy Farm Mobile App or Milk Delivery Business App is a technological tool designed to streamline and enhance the milk delivery process in a dairy farm.
It removes the need for handwritten paperwork and lowers the likelihood of mistakes or misinterpretation.
The app facilitates route planning and optimization, enabling dairy farmers to map the most efficient delivery routes.
This helps prevent stock outs or overstocking, ensuring a steady supply of milk to customers.
By using a milk delivery business app, dairy farmers can access valuable insights and analytics. They can analyze customer behavior, preferences, and trends, helping them make informed business decisions.
Revolutionizing the Dairy Industry with Milk Delivery Apps
The dairy industry has been taken by storm with the introduction of milk delivery apps. These innovative solutions have revolutionized the way customers receive their daily dairy products. As a leading milk delivery app development company, we understand the shifting customer preferences and have dedicated ourselves to creating user-friendly and efficient milk delivery mobile apps.
Milk delivery apps have revolutionized the dairy industry and we, as a leading milk delivery app development company, are at the forefront of this revolution. With our expertise in milk delivery mobile app development, we strive to create innovative and efficient solutions that cater to the specific needs of the dairy industry.