Web design is liable for nearly 92% of a user's first impression. For your company website, great UI/UX design can help you improve sales numbers. It's essential to integrate modern web design into your marketing strategy as present web design trends play a key role in your website design. In this digital era, people are naturally dependent on the Internet to help them complete everyday tasks. From shopping to marketing, people always look on the Internet to make their tasks easy.
As a company owner, you should know whether your website is having a good conversion rate or not. By understanding the insights, you should know the next process to improve your website. If you are unable to get the correct road to improve, contact a reliable and scalable web design company.If your focus is to gain trust and retain users to your site, you need to update and adjust to the latest website design trends to exceed and stand out from your competitors. To help you keep track of some of the latest trends in web design, we have compiled the best website design tips for you..
Highly Effective Website Design Tips 2023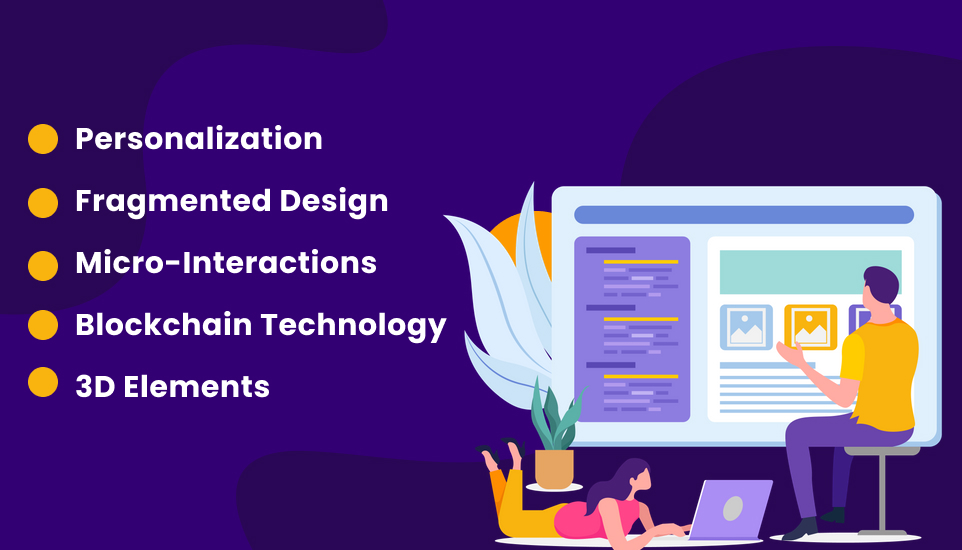 Personalization
Personalization is the concept of providing your site with tailored experiences for each individual user. Personalization has always been a crucial concept in web UI/UX design, but discovering new and better ways to enhance the user experience will become even more critical this year. For example, as algorithms enhance and become more cultivated, they customize user experiences based on personal browsing data. Personalization is done using content stored in your CRM, based on user behavior, or even via an automated process (such as an email marketing campaign). The goal is to make your buyers feel amazing and give them an experience that meets their individual needs, and in 2022, that's precisely what websites need to do to stay relevant.
Fragmented Design
Fragmented designs are when visual elements like typography are broken down into parts or fragments. These individual pieces of content are then re-arranged in a unique way to create a unique look and feel. It can contain overlapped elements, shapes, cutouts, etc. This type of UI/UX design has been a hot topic in the design and development world for some time. Still, this has just begun gaining usability and popularity with the emergence of CSS Grid. When you design your website with fragmentation in mind, you are splitting up content into units and providing users with various options to access them.
Micro-Interactions
In web application design, micro-interactions are those small points that give customers feedback on the status of their actions. For example, when you click a button, it switches color or provides animation to show that you've finished an action. Once you start considering it, you'll witness these micro-interactions everywhere you go online, from Youtube to Spotify. They are already being used widely online, but in 2022, they are becoming a complete necessity for websites to have due to the simple fact that they create your content much more fun and friendly and indicate that you have high attention to detail in your development.
Blockchain Technology
Blockchain technology is evolving much more mainstream this year. Blockchain permits information to be allocated but not copied, making it unique. This technology has importance for nearly every industry, and design is no exception. One of the most exciting possibilities for blockchain technology in web design is building decentralized applications. There are applications that live on the blockchain, usually indicating that they're open-source and don't require a server.
3D Elements
This tip is particularly applicable to anyone with an eCommerce store or who wishes to sell something online. With 3D modeling software, you can change almost anything on your site into a 3D image or animation. By including more realistic images of your products, you can deliver true scale and shape and let users see all sides of the product. This helps users get a better idea of what they're buying, which has boosted conversion rates for online stores. In addition, 3D features create a feeling of depth and make it feasible for users to interact with products in new ways. 3D product visualizations will get even more refined with technological advances this year.
Conclusion
Your company visibility isn't as simple as creating a website and leaving it in a competitive era. To serve customers with the best possible picture, any website needs constant optimizations and modifications as per the latest trends and industry requirements. If you are planning to change your website, hire a website designer from our top web design company.