mTouch Labs is the one-stop solution for all Hybrid App developments. We integrate the greatest features of hybrid apps to produce a cross-platform mobile app development that works like hybrid apps on Android, and iOS. mTouch Labs is ready to prepare and manage a Mobile App Development Company challenges with our innovative top hybrid app development company in Hyderabad.
We are the Top Hybrid App Development Company in Hyderabad. , we develop strong hybrid mobile apps using popular tools and technologies. With new tools and better app performance, cross-platform mobile app technology has evolved to a point where it's similar to native operations. For a free consultation with the Top Mobile App Development Company in Hyderabad, contact us today.
How To Pick The Hybrid Mobile App Development Company in Hyderabad?
The Most Popular Hybrid Mobile App Development Company in Hyderabad Framework Mobile apps are the most improvement for any company; however, only if you execute your innovative ideas. Nowadays the hybrid technology for app development allows us to access any mobile OS, including iOS and Android apps, by utilizing a single app, it is difficult for businesses to determine which framework to choose.
You must be aware of things like the structure of your mobile app developers team, project and product management, frequency of updates, and the requirements for users. In this blog, we'll talk about hybrid mobile app development companies in Hyderabad to aid you in understanding the technology and identifying the Best Hybrid App Development Company in Hyderabad solution for your business.
What Is A Hybrid App?
Hybrid apps are created by using HTML5, JavaScript, and CSS. They are hybrid applications rapidly improving in popularity since businesses can use the same Hybrid application code to run their apps across different OS and offer a hybrid experience to users. Native apps are usually expensive since they are particularly designed for specific operating systems, which means that the iOS native app development company didn't function on Android.
Hybrid apps can be used in many apps; they have the capability to provide an experience that is a native app in terms of UI/UX and push notifications. One code could be used on different platforms. There is no need to hire a mobile app developers company in Hyderabad specializing in a particular forum for iOS and Android.
Advantages of Choosing Our Hybrid App Development Company
There are many advantages of our Hybrid App Development Company. Here are the some of main benefits of building hybrid apps
Hybrid apps are usually independent and reduce development time because a single code base works on other platforms like iOS, Android, and Windows.
The development cost of hybrid mobile apps is lower than native or web mobile apps, hybrid Mobile App Developers can fasten the development process with a set of huge libraries and development frameworks.
Hybrid apps offer offline support for apps which are usually used by the user. Offline support keeps the users connected to some of their app features even when they have a poor connection or lose network connection.
Hybrid App Development company is based on the concept 'write once, run everywhere'. Therefore, to popularize your business on multiple platforms in a cost-effective way, there is no other alternative to cross-platform apps.
Why Should You Choose Hybrid App Development?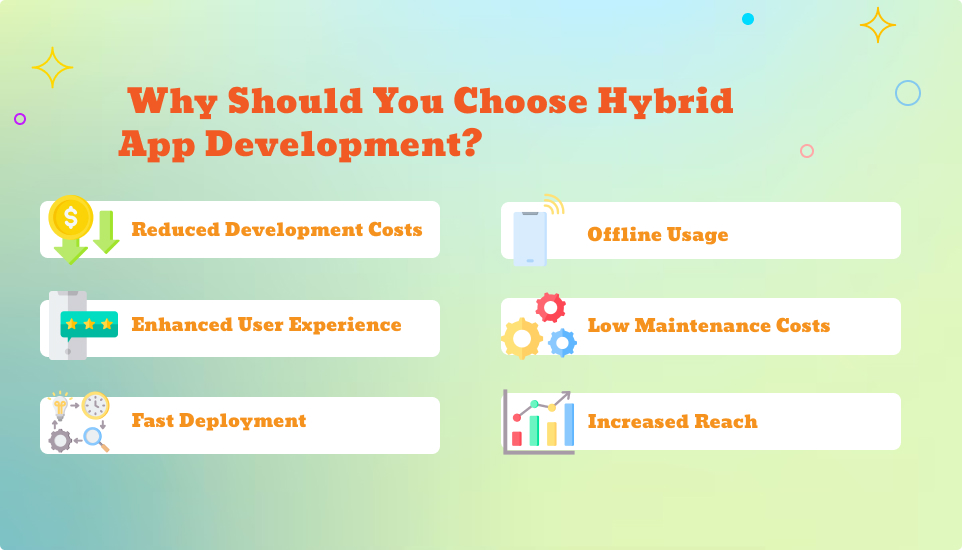 Reduced Development Costs

Developing a hybrid app development is usually cheaper than native apps; therefore, your app has less time to market.

Enhanced User Experience

People who want to use hybrid apps that pay good attention to the user experience- should go for hybrid app development.

Fast Deployment

Those who want to have their own mobile app in the app store as quickly as possible should consider using cross-mobile apps.

Offline Usage

People who want to save data costs or have poor internet connectivity- can be advantaged from the offline operation capabilities of hybrid apps.

Low Maintenance Costs

hybrid apps are easier to maintain and modernize compared to native apps.

Increased Reach

Another crucial thing that makes Hybrid apps popular is they help you reach more customers as you can use them on different platforms.
Hybrid App Development Services
We are the Best Mobile Application Development Company in Hyderabad that offers hybrid app development services to businesses or startups.
Our years of experience in Mobile App Developers Company are ready to deliver the best hybrid mobile apps that engage users and boost ROI.
Hybrid App Development Services
Hybrid Application Integration
Hybrid Application Testing
Maintenance and Support
Hybrid App Design & Development
Disadvantages of Hybrid Application Development
One of the disadvantages is that hybrid apps can often be slower than native apps. This is due to the fact that hybrid apps have to calculate webview factors, which are basically web pages embedded within the app.
Another disadvantage of a Hybrid App Development Company in Hyderabad is that it can be more difficult to achieve constant performance across all the platforms.
Finally, hybrid application development can be more expensive than native app development, as it requires developers to have expertise in both web and mobile technologies.