Mobile app development is a valuable technological discovery that has changed how we communicate and do business. Over the years, mobile applications have emerged, with each year introducing new trends and updates. What is one common thing that 2020 causes nationwide? Something that forced everybody to change their idea to watch forward before making any decision. That is the Coronavirus pandemic that crashed the world economy. The entire world is striving under the shadow of Covid19 not only in personal life but also in professional life too. The impact of this pandemic forced industries to revise their business strategies.
During 2019 and 2020 many technological advancements influenced the mobile app development landscape, such as Artificial Intelligence (AI), Internet of Things (IoT) technology, cloud-native apps, augmented and virtual reality, 5G connectivity, and much more. 2021 is coming soon and everybody is interested in what mobile application development of the decade brings us. In particular, when it comes to the global IT community – what are the latest major trends in mobile application development 2021 expected to be? Let's have a look at some of the most prominent next-year software traits.
Latest Trends To Look-Out In The Field Of Mobile App Development
What technologies and trends do you think will be most attractive in the coming year? Let's dip into the latest mobile application development trends for 2021 and what we should expect most.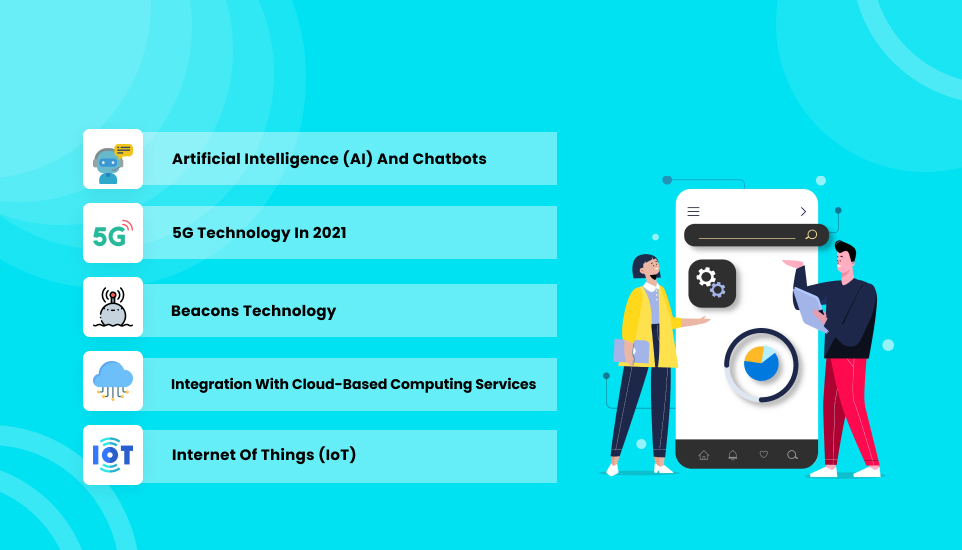 Artificial Intelligence (AI) And Chatbots
Artificial Intelligence and machine learning are expected to take mobile app development to the next level during 2020. The integration of mobile apps with AI improves user engagement and saves a lot of money for businesses by automating regular tasks. Hence, including Artificial Intelligence technology in mobile applications calls for maximum chances of an increase in the business. Moreover, this tech will help you stand out from the others. After seeing the benefits of Artificial Intelligence in the mobile world, tech giants like Microsoft, Facebook, Google, IBM have also started investing in it. In addition, chatbots are changing the way businesses interact with customers via smartphones. Chatbots enable mobile app services to respond to customers' requests and queries quickly. These requests include food delivery services, online shopping services, and transportation services.
5G Technology In 2021
5G technology is designed for compute-intensive applications like virtual reality, augmented reality, and 4K video streaming. Developers can use 5G technology to create designs, interfaces, and features that improve business performance in different industries. 5G is treated as 100 times faster than the 4G with a speed of 100 Gbps. 5G is being used for Android and IOS apps such as video streaming. Several industries are building apps with 5G tech to improve effectiveness. This tech has low latency and thus emerges user experience with the app.
Beacons Technology
Beacon technology is one of the most promising things happening in proximity marketing and location tagging. Beacons are very small and wireless transmitters that use low-energy and optimize location-based searching via Bluetooth signals to other devices. Beacons technology makes communication more comfortable between devices and more accurate. It offers robust mobile app development solutions by implementing potential product displays. It is the best option offered for more personalized services to the targeted audience.
Integration With Cloud-Based Computing Services
With mobile devices having limited storage and memory, it is important to have a centralized source of data over the cloud. This has led to an invasion in cloud service offerings from large names like Microsoft Azure, Amazon Web Services (AWS), Google, IBM, and Oracle. The growth in the telecom industry has led to the development of IoT. This Cloud-Based Computing tech is known to offer automation services in many devices such as smartphones, TV, smartwatches, and more.
Internet Of Things (IoT)
The growth in the number of smartphone devices creates various opportunities for IoT technology. Internet of Things is a network of Internet-connected devices that allows automated control and performance to users. Industries are moving towards optimizing human efforts and wanting to automate their business operations. Investing in IoT Android app development and IOS app development becomes crucial for business owners to capitalize on it.