In 2021, around seven billion people are spending an average of 80% of their time on mobile apps. Mobile apps have become an important part of modern life in recent times, thanks to the enhanced use of mobile apps. Everything is virtually at your fingertips, from shopping, ticket booking to scheduling a doctor's appointment, taking online courses, purchasing groceries, and booking a table in a restaurant. Being a startup mobile application development company in this era is challenging. There is so much competition to stay on top, but do not worry, as we will tell you the best on-demand mobile app development ideas that will help you to earn money in 2022. The on-demand mobile application development startup ideas are scalable, powerful, dynamic, and practical. It will help any mobile app development company to remain in the top market and enhance their business most efficiently.
Trending On-Demand Mobile Application Development Ideas
The on-demand mobile app development has lots of potential and reaches the customer faster because of its efficiency. The on-demand iOS app development and Android app development are the most rapid forms of daily solutions which everyone needs. It is no surprise that people use 90% of their time on smartphones. In a year, more than 23 million users use mobile apps.. In a year, more than 23 million users use mobile apps. Do you know the best on-demand mobile app ideas that are in trend now? Meanwhile, have a look at our previous blog on how to create an on-demand mobile app. To make your quest easy, we are providing you with a list of trending mobile and web app ideas.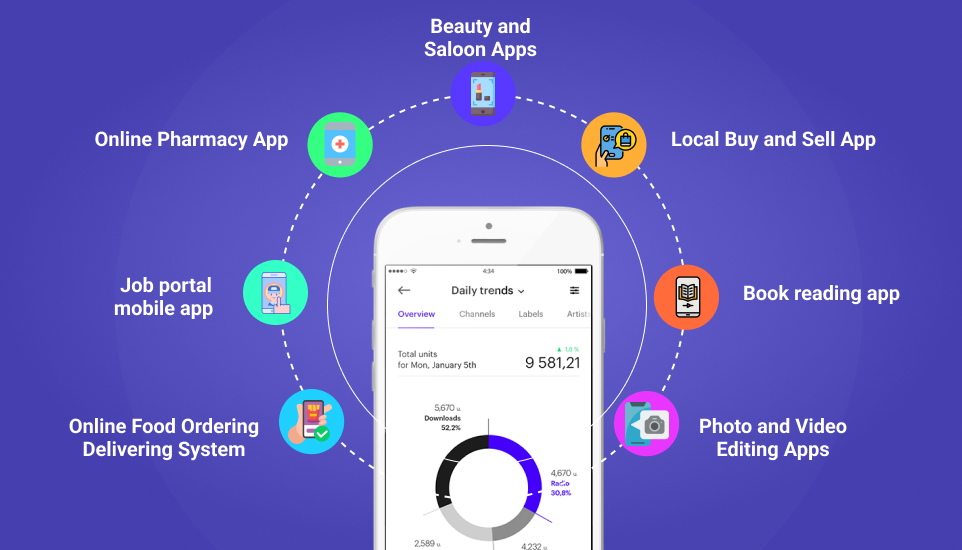 Best On Demand Mobile App Development Company
1. Online Food Ordering Delivering System
Today, many people are so busy that they don't have time to go to restaurant places and eat. As a result, food delivery mobile application development is a great mobile app for startups. The food delivery and food ordering app is a mobile application that allows users to place food orders from any restaurant in any location using their tablet or smartphone devices and get delivered without hassle. Customers can pay through COD, UPI, or card payment methods.
2. Job Portal Mobile App
Due to the COVID-19 pandemic, over 1.2 million people lost their jobs. As per the CMIE (Center for Monitoring Indian Economy), the national unemployment rate has risen to 8.32% in September 2021. As per a study conducted by Undercover Recruiter, more than 90% of job seekers use mobile to search for their dream jobs. And 45% of them do it daily. This job portal Android app development and iOS app development can provide endless job opportunities for both skilled and unskilled people around the globe.
3. Online Pharmacy App
This type of pharmacy app is in high demand currently. If someone is feeling unwell, they are unlikely to go out and buy medicine then this online pharmacy app comes in handy. Furthermore, nobody would want to go out and take the risk of becoming sick. Online Pharmacy medicines delivery apps may be able to help in these situations. Due to these pharmacy apps, people may now get the medicines they need anytime they want.
4. Beauty and Saloon Apps
It is an evergreen app idea as all the people are very keen about their personal care. Both men and women find and spend their time on facials, haircuts, SPA, massages, grooming, and makeup to improve their appearance. These beauty and saloon apps reduce the wait times of your customers via the online booking appointments feature.
5. Local Buy and Sell App
The concept of local buy and sell may sound new to many, but it's like an old idea of giving unused items to a friend or family member. The difference between the old concept with the new concept is, you get money in return. This type of android app development and iOS app development platform offers a chance to regular sellers to sell used products, advertise them and make money. Other customers such as buyers can browse the list of products, make their selection, and add it to the cart.
6. Book Reading App
People are liking the new way of reading books on mobile devices and tablets. And this is the cause why every author or bookseller wants to publish an eBook along with a physical copy. You can develop an eBook reading mobile app where registered users can read a book at their comfort and place. This book reading app becomes a handy solution instead of taking a physical book while traveling.
7. Photo and Video Editing Apps
Videos and photos are fun, informative, and engaging. Photos and videos play an important role in promoting a business and products. And the first thing people do after buying a new smartphone is taking snaps and videos and editing a photo or video. All thanks to those photo editing and video editing apps. So, investing in the photo and video editing apps will help you reap profits without fail. No doubt!. Success will hit you at peak levels if you implement great features in your app.
Conclusion
On-demand mobile application development is the gem of the software development world. Whether you have Android app development or iOS app development ideas for your business, we will help you to find the great ideas that haven't been made. We are a leading mobile app development company with a team of dedicated and professional mobile app developers for hire, and we have already developed over 40 on-demand solutions. Reach out to our company in case you need any help in developing a scalable and reliable on-demand application of any type.