Every web development project is exceptional from the other one and undergoes different challenges. From quick loading speed to high responsiveness and a more satisfactory user experience, there are multiple website challenges a web developer confronts while creating a Web development. That's why; it is necessary to know web development problems and solutions to cope with them better.
Each web application development project has distinctive challenges as they totally depend on business-specific requirements. But, generally, most web application development challenges are related to website design. Hence, it becomes crucial to address those challenges without any delay. For instance, here are some important web application development challenges you must know if you genuinely intend to focus on them for better website development.
Enhancing the user's engagement
Offers users with the latest and updated user experience
Scalable architect to better adapt with website traffic
Maximum revenue generation
Web application development challenges are not exact for every organization based on their job nature, business opportunities, and challenges. That's why; each corporation requires a detailed solution that resolves the issue related to the website.
Web Application Design Challenges and Solutions
Nowadays, making an exclusive web design is quite difficult for web designers as an eye-catchy web design catches everyone's attention and makes your website stand out. So, concentrating more on web design problems and solutions is getting essential now.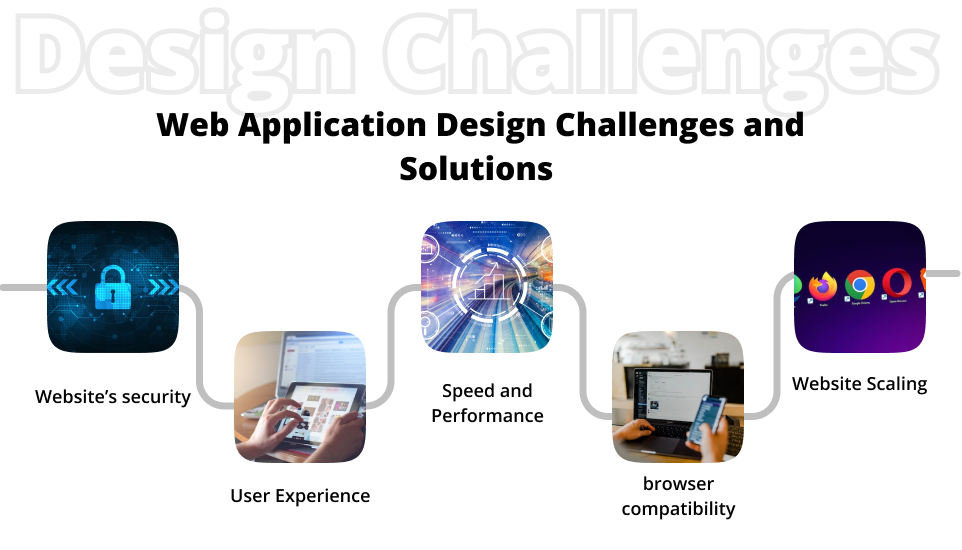 Browser Compatibility
Browser and platform compatibility is one of the key issues for web developers. Hence, ensure your website works properly on all the available browsers. You must check cross-browser compatibility as it needs proper testing. Here's what one can do for this purpose. Don't test your website on multiple browsers together. You can switch between browsers after 2 or 3 days to better evaluate results. You don't require to compose browser-specific native codes as they can produce severe issues for website compatibility. Work on these tips as they can actually improve your browser's compatibility.
User Experience
If you want an attractive user experience, you must focus on UI & UX. However, there must be alignment differences between both designs, mainly when you design a uniform website UX. Organizations need proper resources to explore users' expectations. Indeed it is a costly procedure, and not every company can afford it. Therefore, building a responsive website and upholding UI compatibility according to different screen sizes are equally important. Web developers think it is a daunting task and prior size to adjust UI according to different screen sizes. You must create a web design after analyzing users' location, pain points of the customers, their demand, and related aspects.
Speed and Performance
Website speed draws every visitor because no one wants to stay on a website with a slow speed. Interestingly, around 70% of users expect a website to load within 2 seconds. You can check multiple implementation parameters to examine your website's speed and responsiveness rate. Various tools are available for this purpose, Uptime, including GTmetrix, Dareboost, etc. In addition, our SEO tools can also help you analyze your website's speed and performance for free. You can never enhance your website performance without optimizing its core elements, and navigation buttons, including interference layers, content, etc. So, operate on these things if you want to design the best website for the best user experience.
Website Scaling
Website scaling is about supporting the sustainable performance of a website. It can be 20 users per minute or 100 visitors per minute. You must concentrate on some significant elements to make your website perform consistently on every other platform. Your website's architecture matters, so it shouldn't be tiresome for the users. They pay no heed to a website with a boring design.Your focus must be on determining speed, consistency, search, and concurrency problems.
Website's Security
It is necessary to hold your website security as more than 70% of websites are weak to high-risk uncertainties. Moreover, cyber security threats are also growing with each passing day.It is a complex process to filter input data. Instead, you can use a progressive algorithm that filters malevolent inputs. Also, use the framework that delivers the best security features. Remember, some important signs of compatibility you can't ignore. Also, delivering security to your website is the best way to make it secure for visitors and customers.