These days the Mobile app is considered one of the most powerful and important tools for contacting the target audience in terms of business. Almost every person in the world has a smartphone in their hand and this market continues to grow. That is quite a weighty reason as to why you should focus on mobile app technology. Are you still looking for mobile app development for your business? In this article, we share a list of important app technologies that a mobile application can provide for your business.
Let's Have A Look At Our Mobile App Development Technologies
As one of the top native mobile app development companies in Hyderabad, we use innovative technology-built methods for mobile.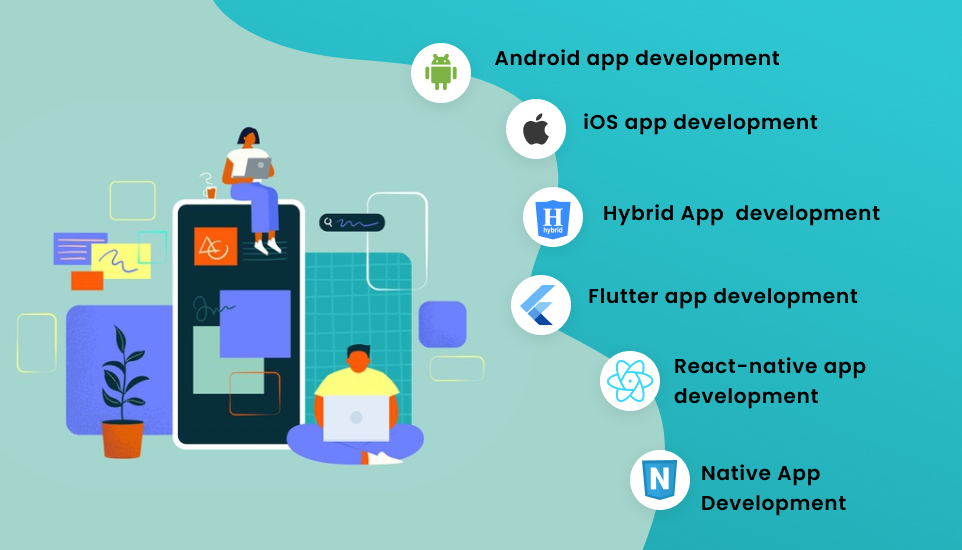 Android App Development
Android mobile app development is the process by which mobile apps are created for devices running the Android operating system. Our android app development company in Hyderabad provides a comprehensive wide range of custom Android app development services.
It helps to boost your business with advanced technology and optimal cost and helps you accomplish your goals. Being a top-tier Android app development company, we work with our clients to first identify their business objectives, define a solution and strategy, and develop a detailed representation for the implementation of Android app development.
mTouch labs perform an in-depth market study and well-researched calculations to validate your business idea and create mobile strategies that meet your business needs. mTouch labs offer a full range of highly innovative and out of the box Android app development based on the Android platform that helps businesses to enhance their marketing strategy
iOS App Development
Apple's iOS is the most advanced mobile application development platform. Our iOS app development company in Hyderabad has rich industry expertise developers with in-depth technical expertise to develop iOS mobile apps.
We deliver the best level of customer service by deploying and developing collaborative and innovative project management systems to build the most professional, standard, highly scalable, and robust iOS mobile solutions with the highest quality standards.
Our skilled professional developers offer custom, offshore, and reliable iOS app development services in India at an affordable cost. We have dedicated ios app developers and designers having in-depth professional expertise in the iOS app development domain for building business-centric iOS and iPhone-based mobile applications.
Hybrid App Development
Hybrid mobile app development is built using specific multi-platform web technologies like HTML5, CSS, and Javascript. They might have an application icon on the home screen, fast performance, responsive design, even able to function offline, but they are really web applications made to look native. Flutter and React-native app development comes under the Hybrid apps
Flutter App Development
mTouch Labs which is a top flutter app development company in Hyderabad Helps Startups and Businesses around the globe go Flutter. We develop apps that are faster to build, scalable, and provide a delightful native app experience to users around the world with advanced flutter mobile app development services.
Flutter offers you excellent feature support and tutorial guides. Therefore, app developers from our flutter app development company with any level of experience can get started with this platform without any hassle. Looking for a Flutter app development company in Hyderabad? Get easily deploy and develop visually attractive, fast mobile apps on Android and iOS platforms.
React-Native App Development
mTouch labs develop React Native app development services at a low cost for your business. We help you develop a mobile app that offers a native UX that is faster to create and operate your business using the React Native framework. Our React native mobile app development company services have helped many clients achieve their business goals.
We excel in delivering mobile applications that have native quality and are built in the least possible time and development efforts. As a leading React-Native app development company in Hyderabad, we have extremely refined methods and approaches that help us successfully develop hundreds of innovative app solutions globally.
Native App Development
Native apps are mainly built for a specific operating system. Native apps developed for the iPhone operating systems won't work on Android devices and vice-versa. You can have either native Android mobile apps or native iOS apps, not to mention other platforms and devices.