Are you planning on building your first mobile application and worrying about the cost of the application? The cost of the Android app development and iOS app development varies a lot. The mobile application costs depend on its functionalities, features, developer's experience, the platform you are choosing to build an application, and many more factors. Building a mobile application has a bunch of processes and tasks that are done by mobile app developers, designers, project managers, and other professionals. Choosing the best mobile app development company is important for developing a mobile app with the best price.
Before starting your mobile application development process you need to define your goals for the eCommerce business. Below are some features you need to check before starting a mobile app.
Kind of application you are going to launch
Platforms
Should target an audience
You are selling products or services
Payment modes you are going to use
Who manages the product delivery
Though there are many Android app development companies and iOS app development companies in India, there are many challenges every eCommerce business owner has to face while starting the first mobile app.
Tricks & Tips To Reduce Mobile Application Development Costs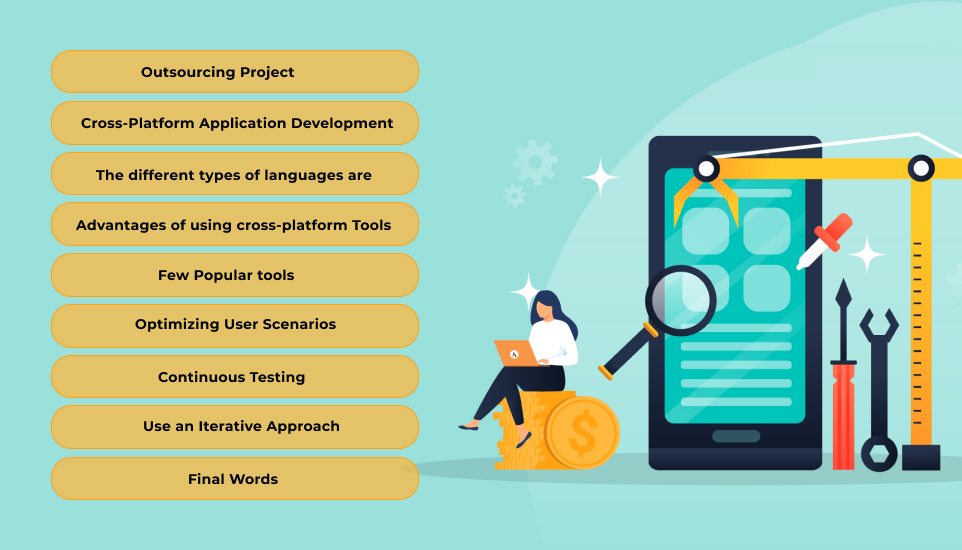 Best Mobile App Development Company
1. Outsourcing Project
Our dedicated Mobile app developers help you to build the mobile application from a technical point of view. Involving various resources and putting a team together with domain and technical expertise costs more. Outsourcing a mobile application development process helps in blending knowledge that helps any company's team to grip skills in a broader spectrum.
2. Cross-Platform Application Development
You can build any mobile application with a native programming language or by using a cross-platform framework. The native framework allows us to solve almost all technical problems and make your app faster and maximizes system capabilities. And some disadvantages increase the duration and cost of the development. The cross-Platform tool saves your duration and also saves your budget.
The different types of languages are:
Advantages of using cross-platform Tools are:
Budget-friendly & less expensive
Single codebase over multiple platforms
More chance to explore
Few Popular Tools
Flutter SDK
Unity 3D
Ionic
React Native
3. Optimizing User Scenarios
By using one or more screens, you can easily implement similar mobile app functions. Testing and the time of implementation will be different and the same goes for the budget. A well-elaborated design stage will allow us to optimize user interactions with the mobile application and reduce the number of screens that the developer needs to design by reducing the cost of android and iOS app development.
4. Continuous Testing
One thing that you should not ignore is the application's quality assurance. If your mobile application is tested once when the project is completed, fixing the bugs can be a problem and it may cost you a lot. Continuous mobile testing in all the stages helps you in saving money and the bugs will be fixed before moving on to another stage. Look for the Best iOS and Android App Development Company in India and developers to test the application at each stage of app development.
5. Use an Iterative Approach
By using this interactive approach, you need to think over an entire idea together with the company first and then break your idea into separate versions. The number of versions will depend on your idea scope. Many of you come with 2 or more versions. Therefore, you always need to recheck the functionalities, changed needs, external factors when you release your mobile application in its first version.
6. Final Words
Creating a mobile application doesn't come for cheap. With the right approach and the best team, you can save on mobile application development without losing its quality. Our tricks and tips help you in implementing your project and get the most out of your investments.