For every mobile app development company , a successful app developers team is important. It's all about creating various reliable mobile applications to run on various platforms or operating systems like programming software, mobile apps, etc. Finding a good mobile application development company to build a mobile app for your business is not an easy task. If you don't choose the right mobile apps development company, then not only do you waste a lot of productive time but also the purpose of your app can get faded, thereby leading to disappointment and losses. However, there are certain factors that can help you find the right and best mobile app development company for your business needs.
Mobile application development is what's trending as every organization utilizes mobile apps. A true mobile application development company is best at developing mobile apps and will have the best mobile app developers for your custom app development. Mobile apps development companies give you insight into what app development is all about as well as the cost of developing it. It's advisable to do research about the company because its probability is what will make your app successful. Hiring professional mobile app developers to create Android app development or iOS app development could be the best option. After making a final decision and placing all the pieces into place, a company needs to hire a skilled and professional mobile app developer to make the idea a reality. Here are some of the major points that make an ordinary app development company one of the extraordinary companies.
Structure Of An Effective Mobile App Development Company Process
Visionary
Visionary unites various tasks under one term, which also catches the main function: leading the entire project to the vision of an ideal mobile application. To do this, a person should have the extreme and distinct knowledge of the business industry as well as be well-versed in management, development methodologies, and mobile development. He is also liable for the developing app's consistency and makes sure it matches the client's requirements specified in the documents.
Basically, a visionary should:
Have a good knowledge of the business line
Have a solid technical background
Manage and lead human resources
Possess a high sense of responsibility
Be good at multitasking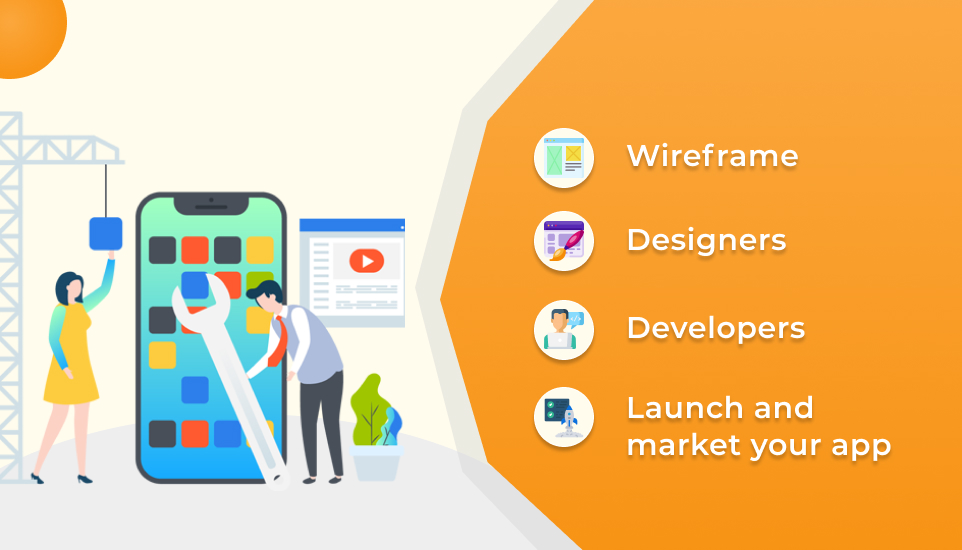 Best Mobile Application Development Company
Choose the best iOS App Development or Android App Development platform for your business
Apple products and Android smartphones are the highest selling mobile devices. You will want a company that can develop an app from scratch simultaneously for both iOS mobile app development and Android mobile app development. Use cross-platform tools to make and deploy the same app on both platforms Or make two different apps for Android app development and iOS app development, which means native mobile app development.
Although a cross-platform app development might seem like a comfortable choice, a good mobile app developer shall definitely recommend you to go for the native app development, one for each platform. It is because the native app development is of better quality, high performing, and more scalable than cross-platform apps. If your app needs multiple computing and complex advanced features, then you will want to go for separate native apps that are optimized for their respective OS.
1. Wireframe
A wireframe is a structural design of an app that shows pictures of the object on the screen and its function. The wireframe is important and the idea of wire-framing your mobile app is to get an idea of what your app will look like and how it will function. Once the wireframe is done, testing can be done. This gives you an idea of the usage and also identifies any other requirements that might be needed. It further recognizes difficulties with the app and highlights any measures that need addressing.
2. Designers
Mobile App Design implementation may only sound like one-step work. In reality, mobile app design experts first have to work with documentation. After preparing the elements, the mobile app design team devises the app's navigation and creates basic wireframes. Then, mobile app designers work on the appearance and feel of the app interface, replicating the same UI/UX design for specific platforms or designing a stand-alone one for hybrid apps.
A team of designers should consist of:
Strategist
Navigation Planner
Visual Designer
Content planner
3. Developers
The role of the Android app development or iOS app development team is to prepare the finished UI/UX design layouts and execute them all in real applications. App Developers should have expertise in working with a program of choice and its languages such as:
Java/Kotlin for Android
Objective-C/Swift for iOS
HTML/CSS/JavaScript for PhoneGap and Cordova
C# for Xamarin
JavaScript for React Native
Launch and market your App
At the time when you feel you're almost done with the mobile application development of your app, then you can start researching how to get your app into the market. Sit with your marketing team and evaluate ways to get your app to market. For startups, it's advisable to go for a marketing strategy that isn't expensive or has no cost at all, such as branding, social media marketing, SMS marketing, email marketing, etc.
Conclusion
Mobile app development is the key to the future. Along with various technologies like IoT and Cloud computing the world is running towards automation. You might realize that choosing a good Mobile application development company takes a lot of time, knowledge, and diligence, but the payoff is well worth it.